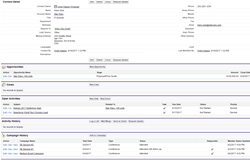 Allow attendees to "opt-in" if content resonates
Seattle, WA (PRWEB) June 07, 2017
Today, Validar Inc., a leading provider of lead management technology for event marketers, announces the release of vConnect for Salesforce, an AppExchange Managed Package deployed within your Salesforce organization. vConnect enables Salesforce to pull from Validar's Event Insight Reporting Platform an attendee's overall activity including: overall event attendance, session attendance, and renewed interest via our mobile EventHub® feedback application. vConnect updates your attendee's overall activity within a single or multiple Salesforce Campaigns, enabling attendee treatment during and post event, directly aligning with attendee overall preferences.
With this update, Event Marketers can now capture, treat, and measure individual renewed interest "hand raisers" that their event content generates within Salesforce Campaigns automatically.
Companies today do a tremendous job measuring online behavior with investments in SEO and Marketing Automation tools now. Validar is bringing this measurement to events with vConnect.
"Event Marketers today are not getting the credit they deserve for their efforts from a revenue impact perspective. With vConnect, you can do some amazing things such as; allow attendees to "opt-in" for direct sales contact if session content resonates, capture this interest within a Salesforce Campaign to measure pipeline impact, refine your Marketing Automation nurturing strategies to better align with attendee preferences. We believe events are under-valued. vConnect is intended to address this challenge for our customers," says Victor Kippes, CEO of Validar.
To learn more about Validar's vConnect application, please visit http://www.Validar.com.
More about Validar
Validar Inc. is the leading provider of lead management, lead capture, registration, and feedback technology for event marketers. Validar's technology and services help some of the largest B2B event marketing brands to close the loop between event marketing and sales by providing the ability to drive relevant activity to sales while measuring the performance of their event marketing campaigns.
Additional news and information about the company is available at http://www.Validar.com/
OR contact: Victor Kippes, victork(at)validar(dot)com, (206) 264-9151 x8530