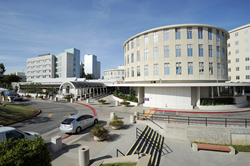 As the San Fernando Valley's only independent hospital, we proud to be a citizen of this community and to host this health fair as a way to bring our mission to life in a fun and engaging way
Van Nuys, California (PRWEB) October 06, 2014
Valley Presbyterian Hospital (VPH) will host its free annual Health & Wellness Community Fair on Saturday, Oct. 11 between 10 AM and 2 PM. The Fair will be held on-site at VPH, which is located at 15107 Vanowen Street, Van Nuys, CA 91405. Parking is available in the Noble Avenue parking garage or next to the hospital at 15211 Vanowen Street, in the Campus Parking Structure.
This year, the theme of the VPH Health & Wellness Community Fair is "A Trip to the Farmer's Market" to emphasize the importance of maintaining well-balanced diets rich in the fruits and vegetables readily available at local grocery stores and farmer's markets. Attendees will even be able to extend the Community Fair experience into their homes: after visiting the "Farmer's Market" on-site and selecting a fruit or vegetable to take home, they may incorporate the produce into an upcoming meal.
The fair will offer a variety of free health screenings including blood pressure, carotid artery, glucose, cholesterol, body mass index (BMI) and foot health. Free flu shots will be administered to those who are eligible. Physicians and other medical experts will be on hand to give live presentations, including Michael A. Polisky, MD on diabetes awareness, and Brian J. Ostick, MD on stroke awareness. There will also be presentations on maternal health, one of VPH's key services to the community.
"As the San Fernando Valley's only independent hospital, we proud to be a citizen of this community and to host this health fair as a way to bring our mission to life in a fun and engaging way," said Valley Presbyterian Hospital Senior Vice President of Community & Market Development Pegi Matsuda. "We stand for improving the health of the Valley region and we look forward to interacting directly with a large number of our neighbors to provide wellness education and tools that can lead to better health."
Children's activities will include face painting, a balloon artist, a puppet show, an arts and crafts station and car-seat safety demonstrations. The event will also feature a "Teddy Bear Clinic" led by certified Child Life Specialists. This program helps familiarize young children with hospital settings and procedures should they or a family member become hospitalized. Children may choose a teddy bear and take it to a series of medical stations where their dolls receive mock check-ups, bandaging and temperature checks.
The fair will also include live cooking demonstrations led by Gloria Huerta and other representatives from Food for Life. The breakfast demo will feature scrambled tofu (Hispanic style) and sweet potato hash, and the afternoon demo will include two recipes - garbanzo bean mock tuna and cauliflower ceviche. Food for Life is an award-winning Physicians Committee for Responsible Medicine (PCRM) program designed by physicians, nurses and registered dietitians that offers cancer, diabetes, weight management, employee wellness, and kids' classes that focus on the lifesaving effects of healthful eating. Each class includes information about how certain foods and nutrients work to promote health, along with cooking demonstrations of simple and nutritious recipes that can be recreated easily at home.
Information booths, healthy food, and a steel drum band will round out the day's festivities.
About Valley Presbyterian Hospital
Valley Presbyterian Hospital (VPH) is an independent, nonprofit and nonsectarian hospital serving the medical needs of the San Fernando Valley community for more than 50 years. VPH has grown to become one of the largest acute-care hospitals in the region and continues to provide patient-centered care for a healthy community. The 350-bed facility offers advanced technology and a full range of medical services to improve and save lives. For more information, visit valleypres.org.