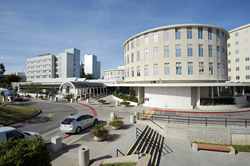 As the only independent, nonprofit community hospital in the San Fernando Valley, we take our role as a health care provider very seriously. We're pleased that our patients and community recognize the high-quality, compassionate care we provide
Van Nuys, CA (PRWEB) September 04, 2014
For the ninth year in a row, Valley Presbyterian Hospital (VPH) has been awarded the distinction of Best Hospital in the San Fernando Valley by Los Angeles Daily News readers. Ranked second in circulation among all Los Angeles daily newspapers, the Woodland Hills-based publication has been the trusted voice of the Valley for more than 100 years.
"We are honored that the Daily News readers voted us 'Best Hospital' in the Valley nine years in a row," said Pegi Matsuda, VPH's Senior Vice President for Community & Market Development. "As the only independent, nonprofit community hospital in the San Fernando Valley, we take our role as a health care provider very seriously. We're pleased that our patients and community recognize the high-quality, compassionate care we provide."
VPH opened its doors in 1958 as a small, neighborhood provider of personalized medical care. Situated on land donated by William P. Whitsett, "the Father of Van Nuys," VPH is now one of the largest full-service, acute-care hospitals in the Valley. The 350-bed facility serves thousands of patients every year, providing leading-edge technology and medical expertise across a wide variety of specialties.
VPH's dedicated staff and more than 500 physicians represent virtually every specialty and subspecialty in medicine, including cardiac care, orthopedics, oncology and maternal and child health care. Highlighting VPH's acute-care capabilities are the following:
– VPH's Little Treasures Maternity Services delivers more babies than any other hospital in the region.
– As a certified STEMI Receiving Center, VPH is equipped to treat severe heart-attack patients within the critical 90 minutes following onset of chest pain.
– VPH is a Certified Stroke Center that provides physicians with immediate access to neurologists via RP-Lite teleconferencing, an on-camera interface that enables real-time consultations between doctors in different locations.
– VPH also features an Emergency Department Approved for Pediatrics (EDAP). Specialized pediatric teams of surgeons and anesthesiologists are ready at a moment's notice to assemble, triage and fast-track children to urgently needed care.
– VPH also provides treatment and care for patients who are suffering from complications resulting from diabetes, and who are at risk of lower extremity amputation. The Amputation Prevention Center at VPH is one of only a few centers nationwide that solely focuses on preserving limbs. The Center offers the expertise of on-site vascular surgeons, podiatric surgeons and experts in limb salvage and wound management in one state-of-the-art setting.
While the hospital continues to expand its range of services and expertise, VPH remains a community-based hospital dedicated to high-quality care and service. As the Valley's only independent, nonprofit hospital, VPH's mission is to improve the quality of health in the community.
ABOUT VALLEY PRESBYTERIAN HOSPITAL
Valley Presbyterian Hospital (VPH) is an independent, nonprofit and nonsectarian hospital serving the medical needs of the San Fernando Valley community for more than 50 years. VPH has grown to become one of the largest acute-care hospitals in the Valley region and continues to provide patient-centered care for a healthy community. The 350-bed facility offers advanced technology and a full range of medical services to improve and save lives. For more information, visit http://www.valleypres.org.