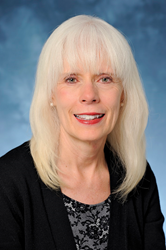 Valley Presbyterian Hospital has a proud legacy of serving the critical and emerging health care needs of the San Fernando Valley since 1958. It is my privilege to continue the mission of nursing excellence and to provide quality care to our community
Van Nuys, California (PRWEB) March 27, 2014
Valley Presbyterian Hospital welcomes Lori Burnell, PhD, MSN, BSN, RN as its new Senior Vice President & Chief Nursing Officer.
Ms. Burnell joins the Valley Presbyterian Hospital from Scripps Mercy Hospital in San Diego, where she most recently served as Vice President & Chief Nurse and Operations Executive. In that role, she was responsible for overseeing several patient care services at two campuses, including nursing, pharmacy, cardiology, case management, laboratory and emergency services. Previously, Ms. Burnell held several clinical leadership positions at Scripps Mercy Hospital, Pomerado Hospital in Poway, Calif., and Mission Hospital in Mission Viejo.
"Ms. Burnell's vast hospital experience and clinical expertise will enhance patient care and provide strong support for our nursing staff," said Gustavo Valdespino, President & Chief Executive Officer. "We are pleased to welcome her to the team at Valley Presbyterian Hospital."
In her new role, Ms. Burnell will work with hospital leadership to achieve the hospital's nursing goals, evaluate and implement new patient care practices, and mentor nursing directors and staff to foster leadership and collaboration.
"I am deeply honored to lead our nursing team in providing our patients with the best quality care and service at the bedside," Ms. Burnell said. "Valley Presbyterian Hospital has a proud legacy of serving the critical and emerging health care needs of the San Fernando Valley since 1958. It is my privilege to continue the mission of nursing excellence and to provide quality care to our community through caring, effective communication and best practices."
Ms. Burnell received a doctorate of philosophy in nursing from the University of San Diego, a master of science degree in nursing from California State University, Long Beach and a bachelor of science degree in nursing from California State University, Fullerton. She has published several nursing articles and is a member of the American Nurses Association and the American Organization of Nurse Executives. Ms. Burnell also is an adjunct clinical professor at the San Diego State University School of Nursing, College of Health and Human Services.
ABOUT VALLEY PRESBYTERIAN HOSPITAL
Valley Presbyterian Hospital (VPH) is an independent, nonprofit and nonsectarian hospital serving the medical needs of the San Fernando Valley community for more than 50 years. VPH has grown to become one of the largest acute care hospitals in the Valley region and continues to provide patient-centered care for a healthy community. The 350-bed facility offers advanced technology and a full range of medical services to improve and save lives. For more information, visit http://www.valleypres.org.