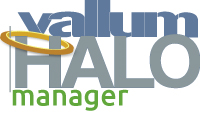 Our position from day one has been that competing network device monitoring software is too complex and too focused on enterprise-sized deployments.
Naples, Florida (PRWEB) June 27, 2014
Vallum Software, LLC today announced the general availability of Vallum Halo Manager, an agent-based IT end-point monitoring solution specifically manufactured for the small-to-medium sized business (SMB) market. Halo Manager is free to download and try for 30 days with no functionality limitations. For a limited time (now through August 31, 2014), Vallum Software is offering a perpetual Halo Manager license for $895, a 30%+ discount off the list price of $1,295. A perpetual Halo Manager license ships with the Halo management dashboard – viewable on any standard web browser – plus one Halo Manager polling agent, capable of monitoring up to 256 IPs, along with Vallum Software support. Click here to download the free 30-day Vallum Halo Manager trial package.
The uniqueness of Vallum Halo Manager, which downloads and installs in just a few seconds, lies in its agent-based technology that installs as an application across a small architecture framework. Halo Manager Runs in the background, consumes minimal system resources and is capable of delivering a host of IT asset statistics at a much lower cost than that of competing solutions. The Halo Manager polling agent automatically discovers and records all assets on the sub-network it is initially installed on and tracks device availability, CPU and memory load, disk space, system processes and services, and many other metrics. Halo Manager can send availability alerts on any monitored IP address (could be device IP or web address IP inside/outside firewall) in the form of an email to any email address or distribution list.
"We have spent the past year developing and field testing Vallum Halo with a focus on IT asset discovery and availability in a presentation layer that makes sense for server and network administrators," said Lance Edelman, Vallum Software technology director and co-founder. "Our position from day one has been that competing network device monitoring software is too complex and too focused on enterprise-sized deployments which creates a price point difficult for SMBs."
At the introductory price of $895, Vallum Halo Manager is well positioned for SMBs that typically have one-to-five IT staff, but who might be managing several hundred devices. Additionally, Vallum offers a straightforward approach to licensing with tiered pricing by subnets or groups of 256 devices/IP addresses. This simple licensing model is a departure from traditional pricing structures (cost per seat or cost per device) that have prohibited many SMBs from adding network monitoring technologies.
->About Vallum Halo Manager 30-day trial package
The 30-day trial package is a fully functional version of Halo Manager with a 30-day expiration clock. All purchased licenses of Halo Manager are perpetual and since purchasing a perpetual license takes place from within the trial package, there is no need to uninstall/re-install Halo Manager or reconfigure your current trial installation. The $895 introductory price for Halo Manager – with 1 polling agent capable of monitoring 256 devices or IPs – is valid through the end of August 2014; on September 1st 2014, Halo Manager will reset to the retail list price of $1,295. Multiple polling agents can be used with a single installation of Halo Manager. Please visit http://www.vallumsoftware.com for pricing and information on Halo Manager with multiple polling agents.
Upon installation and at user-defined and up-to-the-second intervals, Halo Manager scans the network for devices and automatically adds new devices to the device list in the user dashboard. Any device IP or website IP outside the firewall can be manually added with a few mouse clicks. Halo Manager also provides a "watch list" function that allows the user to monitor specific devices (or web addresses) that deliver the most critical applications to their end users.
For support, Vallum Software offers an online support portal, FAQ knowledge-base and email help-desk support. Support options from Vallum Software can be found here.
->About Vallum Software
Vallum Software, LLC is a software manufacturer of IT end-point management solutions that delivers extensive functionality at a lower cost than competing solutions. Because the production of our solutions are streamlined through effective, clean and purposeful code, Vallum software products operate across a much smaller footprint. This translates to faster downloads with hassle-free installations, and functionality that tackles specific issues related to network- and server-administrator job functions. From this concept, we have positioned Vallum Software to be the exception to the complex, "bloated" and overpriced software of competing brands.
At Vallum, we believe in the power of American manufacturing that is fueled by a competitive drive to build better products at a lower cost in a more efficient distribution model. Our software manufacturing model is based on the core American business philosophy that success is borne out of hard work, innovation, honesty and dedication to positive customer experiences. It is an American ideology that seems hard to find in America today but certainly sought after in Vallum Software, LLC.
->Vallum Software and The GMI Foundation
The Halo Manager polling agent was a joint development project between Vallum Software and The GMI Foundation, a consortium of open-source software developers dedicated to lowering the cost of technology solutions to the SMB marketplace. For more information on The GMI Foundation, please visit http://www.gmi-foundation.org.