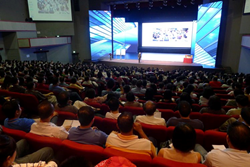 If you want to turbo charge your investments in 2015, come to the event and discover the lucrative secrets to value investing success that can generate massive results consistently, year after year
Singapore, Singapore (PRWEB) November 27, 2014
Value Investing Summit 2015 is announcing an all-star speaker lineup that includes Ken Chee and Clive Tan (Executive Directors and co-founders of 8I Holdings Ltd) Louie Pinto (Motivational Speaker, Psychology of Wealth), Calvin Yeo (Managing Director and co-founder of DrWealth.com), Geoff Howie (SGX Marketing Strategist), and the "Warren Buffett" of Thailand, Dr. Niwes Hemvachiravarakorn. The summit, which is in its fourth year, runs from January 24 to 25 in the Singapore Expo Max Atria and aims to keep value investors up to date on market information such as current business cycles, company performances, societal trends and much more.
"Top value investors in Asia and Australia are invited to the Value Investing Summit to share about their investing experiences," said the event spokesperson. "This summit also provides a platform for serious value investors to network with one another to learn more about value investing ideas and examine key concepts so that everyone can become more successful investors."
Dr Niwes Hemvachiravarakorn was ranked as one of the World's 99 Greatest Investors by Magnus Angenfelt, along with Warren Buffett, Charles Munger, Jim Rogers, George Soros and Philip Fisher. Dr Niwes's value investing results have been amazing, from a portfolio of USD 300,000 to USD 100 million over 17 years, with an annual compounded growth rate of 40 percent consistently.
"Dr. Niwes will be sharing with you his success story, experiences, and his vision of what the future of value investing looks like," said the event spokesperson. "If you want to turbo charge your investments in 2015, come to the event and discover the lucrative secrets to value investing success that can generate massive results consistently, year after year."
According to the Value Investing Summit's event website, the money that people have today will be reduced in value by 50 percent in 13 years' time due to inflation. With the information from the speakers at the summit, attendees can learn how to not only protect their current finances, but also grow it into a fortune. The summit is specially designed for all investors, no matter their experience level.
Tickets for this event are on sale now on the event's website, http://www.valueinvestingsummit.com. Orders and purchases made before December 1 will receive the early bird discount rate.
About Value Investing Summit 2015
Value Investing Summit 2015, the largest gathering of value investors in Australasia, is happening in Singapore from January 24 to 25 and will feature renowned value investment expert Dr. Niwes Hemvachiravarakorn. For more information, please visit http://www.valueinvestingsummit.com/