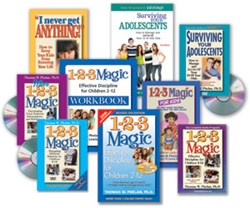 Glen Ellyn, IL (PRWEB) July 19, 2013
Parent Magic Inc is now offering product packages with complete libraries of related books and DVDs. Each bundle represents a savings of 30% over retail pricing and many come with a free gift. Each bundle of products offers a different value to the customer.
The "Parenting Toddlers to Teens Complete Book and DVD Library" offers parents tools and advice for parenting from age 2 through high school. Also available is the complete "Lending Library" geared toward professional counselors and psychologists. It is a great resource for sharing Dr. Phelan's ideas with colleagues, staff and clients.
Parents of toddlers and young children who are interested in effective and healthy child discipline will find the complete 1-2-3 Magic package useful. It includes the award-winning 1-2-3 Magic book and DVDs series. Many parents find written words and visual learning the best way to build a solid foundation to parent from. The 1-2-3 Magic series is available in English or Spanish.
There are 7 packages to choose from. 1-2-3 Magic Parenting is the best-selling child discipline by Dr. Thomas Phelan. To learn more about ParentMagic and healthy discipline from toddlers to teens visit 123magic.com.
About ParentMagic Inc. and Dr. Thomas Phelan
1-2-3 Magic is America's #1 child discipline program. Now in its 4th edition, 1-2-3 Magic has helped millions of families stop unwanted behaviors and create competent healthy children. Dr. Thomas Phelan is a registered clinical psychologist in the Chicago suburbs. He has also served on the board of directors for both ADDA and CHADD, two national organizations for the parents of children with ADD. Dr. Phelan was inducted into the CHADD Hall of Fame in 1997.