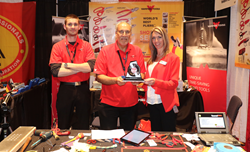 We're extremely honored to be recognized by ISN for our contribution to the Expo
Las Vegas, Nev. (PRWEB) March 30, 2017
Vampire Tools, the fast-growing tool innovators that released the patented Vampliers fastener-extracting pliers, made a great impression at the recent ISN Tool Dealer Expo West, held in Las Vegas Nevada, picking up Best Product Demonstration award for its engaging hands-on display of its pliers and shears.
The two-day expo hosted tool makers and industry experts from all over the country, with thousands of innovative products on display. Each booth was judged based on its effectiveness as well as its intrigue to customers. The Vampire Tools booth aimed for an interactive demonstration, with plenty of vendor/customer interaction and a table full of tools and materials to try out. Large monitors drew passers-by into the booth to try the tools hands-on.
"We're extremely honored to be recognized by ISN for our contribution to the Expo," commented Mirza Basravi of Vampire Tools. "The Expo was very exciting, and it's always fun to see so many innovative tools in one place. As for our demonstration, the most effective part was our product—Vampire Tools are just fun to use!"
About Vampire Tools
Vampire Tools International, Inc. started in 2012 with the vision to revolutionize seemingly straight-forward hand tools through simple, function-driven innovation. The innovative design of the flagship tool, the VamPLIERS TM put the company on the map as the most effective tool on the market for extracting stripped fasteners. The mission of Vampire Tools is to continually introduce new and unique products that are versatile, technologically intuitive, and time-saving.