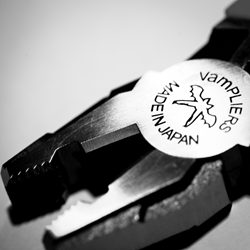 We wanted to make it easier for customers to find out more about our tools
Irvine, California. (PRWEB) September 27, 2016
Getting your hands on a pair of VamPLIERS™ just got easier. Vampire Tools, which pioneered its patented VamPLIERS™ technology in 2012, has progressively established itself as the gold standard in lineman pliers. With the recent unveiling of its new website vampiretools.com the company hopes to introduce its innovative line of specialty tools to a bigger audience.
Much of the popularity of Vampire Tools can be attributed to its flagship tool, the VamPLIERS™. The combined vertical and horizontal serration makes the tool a simple but radical redesign from traditional pliers. To showcase the tool, the new website features an "Expert Reviews" section where newcomers and returning customers alike can benefit from a variety of media, including review videos and tips and tricks from the experts.
In addition, the newly refreshed website makes it even easier for visitors to find what they're looking for, allowing shopping by application (i.e. automotive, electrical, and others) as well as tool types. It's also never been easier to order tools directly from the Vampire Tools website. You can even view your account and access order tracking directly from the website.
"We wanted to make it easier for customers to find out more about our tools," Anita Qureshey, founder and CEO of Vampire Tools explained. "With the new website, it's much easier to go from researching our products, to finding what you need, to checking out, all in the same place."
At the heart of the website redesign is the commitment to customer service, Qureshey explained. "When you buy a tool from us, you can be sure that you're getting more than what you pay for. Above all, our new website makes it easier to contact us, and we'll make sure that we support you every step of the way."
About Vampire Tools
Vampire Tools International, Inc. started in 2012 with the vision to revolutionize seemingly straight-forward hand tools through simple, function-driven innovation. The innovative design of its flagship tool, the VamPLIERS(TM) puts it on the map as the most effective tool on the market for extracting stripped fasteners. Its mission is to continually introduce new and unique tools to the market that are versatile, technologically intuitive, and time-saving.