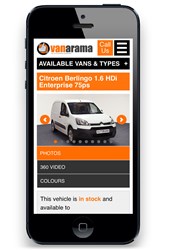 We've designed the site to operate effortlessly and work seamlessly for customers using touchscreen devices who need access to user-friendly information anywhere at any time.
(PRWEB UK) 31 January 2014
The new responsive design website http://www.vanarama.co.uk is comprehensive and fully functional on any device, from the smallest smartphone to tablets, high end computers and everything in-between.
Representing twenty times any previous spend Vanarama has made on its website, Andy Alderson, Managing Director, explains why the investment in the new site is so important, "Our key customer base consists of builders and tradespeople, so it's no surprise that 52 percent of our customers are out on the road, viewing our website from a mobile device. This figure is only going to grow, so it was vital to create a 'mobile first' design to our site. This would help ensure that mobile users would have just as good an experience on their mobile as they would on a desktop PC. The site needed to operate effortlessly and work seamlessly for customers using touchscreen devices who need access to user-friendly information anywhere at any time."
With so many other web-based brokers out there, a key concern for Vanarama in the design of its website was also to make it stand out from the crowd. The internet is a great leveller and, while this is great in certain circumstances, the reality is that it's easy for anyone to build a website using stock photo images and set up a business. This makes it difficult for consumers to understand who they can trust. Vanarama has ensured it will differentiate itself and be taken seriously in a crowded market by creating premium content:

A large part of the budget was spent on producing its own photography for every van sold. The on-line photo gallery allows the consumer to view each vehicle in all the popular colours.
360 degree videos were also produced as well as video walkarounds and reviews.
Providing impartial reviews from a well-respected motoring journalist on every van sold.
Including a Running Costs Calculator so customers can easily determine daily running costs.
Enabling customers to quickly pit vehicles against each other with an on-line vehicle comparator.
Another vital element on the site was conveying the sense of a service-led culture - that the relationship with a customer is only really starting when they sign the dotted-line of the leasing agreement. To this end, Vanarama included key information on the Customer Support Team, the processes the company goes through to ensure that customers receive their vehicle on time, every time, and all enquiries are dealt with efficiently right up to the end of the lease.
"We are really proud to be one of the first van leasing companies to have adopted a responsive design website. We might have laid down a lot of cash in the site, but I see it as an investment in the future. As usage of mobile devices continues to skyrocket, it is essential to our customers to be able to access all of their favourite site features across all devices. Feedback so far has been fantastic, customers can really see the difference between Vanarama and the other web-based brokers," concludes Andy Alderson.
-Ends-
http://www.vanarama.co.uk is part of the Autorama Group which also owns http://www.pickuptrucksdirect.co.uk and is a leading provider of commercial vehicle leasing in the UK. For further press information, please contact Kate Bailey or Andy Alderson on 01442 828777.