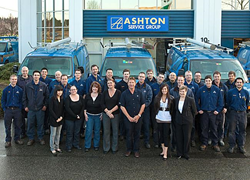 It is extremely important to have routine maintenance performed to maximize the life span of your heating system
Vancouver, BC (PRWEB) August 16, 2013
Vancouver furnace repair and heating system maintenance contractors at Ashton Service Group know the value of having a furnace tune-up done before each winter. "It is extremely important to have routine maintenance performed to maximize the life span of your heating system," says Connor Williams of Ashton Service Group.
In order to help consumers save as much money as possible Ashton Service Group is helping consumers get a $25 rebate from FortisBC by performing furnace tune-ups. From now until August 30th 2013 people can call 604-283-2383 to schedule service for their furnace.
Why maintenance is important
Out of sight, out of mind right? Wrong. Having your natural gas appliances serviced by a qualified Ashton natural gas contractor has numerous benefits. These include:
-Leak detection – an inspection can detect even the slightest leak in your gas piping.
-Warranty – some manufacturers require regular servicing to ensure your warranty remains valid.
-Efficiency – using a combustion analyzer, a gas contractor can test to see if your furnace is operating as efficiently as possible.
-Safety – a gas contractor will inspect the area around your appliances to ensure there is proper ventilation and that no combustibles are nearby.
-Air quality – a gas contractor can check your furnace filter, show you how to replace and recommend how often.
An Ashton Service Group furnace tune up includes, but is not limited to:
-Checking operation of safety limit controls, temperature set points, thermostat, blower, pressure switches pilot light, gas piping and C02 levels
-Lubricating blower and motor bearings
-Burner and blower inspection.
In addition to being HVAC contractors Ashton Service Group is also a full service Vancouver plumbing company. They can handle any type of commercial or residential plumbing job including drains, sewers, garburators and water heaters including tankless.
To learn more about Ashton Service Group consumers are invited to see their many positive reviews on trusted plumbing and HVAC review sites like Google, Review Buzz and Yelp. With more than 25 service trucks on the road and over 25 years of experience there is no job Ashton can't handle.
Ashton Service Group
4060 Blenheim Street
Vancouver, BC V6L 2Y9
+1 604-283-2353