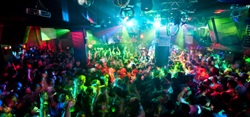 Booking reservations at nightclubs has always been made difficult, we aim to simplify that in each city we grow into
Vancouver, BC (PRWEB) September 03, 2016
Top club concierge company MyRSVP, announced today that they have expanded their VIP services to Vancouver, British Columbia. This is a move designed to bring a new level of convenience to the city's vibrant nightlife scene.
An industry-leader in Las Vegas, MyRSVP focuses exclusively on the best nightclubs and pool parties. This announced expansion will introduce a new way to book VIP services and avoid long lines at all of Vancouver's most popular venues.
Named one of the ten best cities in the world by the Telegraph, Vancouver is home to some of the most talked-about nightclubs. It's a diverse scene that includes everything from the theatrical excess of Republic at The Annex to the coziness of the Hello Goodbye Bar, in addition to Twelve West, the city's most exclusive haunt. MyRSVP is a direct booking system, putting guests in contact with club owners or hosts to assist their needs.
"Booking reservations at nightclubs has always been made difficult, we aim to simplify that in each city we grow into" says Adam Sadie with MyRSVP. "It's about who you know in nightlife, and we're hoping to connect would be customers with the people at the venues making the tourist or local's clubbing experience seamless."
In addition to nightclubs, MyRSVP has broken down the city's top dining establishments by category. Vancouver is well known for fresh seafood which can be found at places such as Minami in Yaletown, or Miku on the waterfront. The restaurant section also includes Steakhouses, so if it's beef that's desired, places like Gotham Steakhouse or Black & Blue are highly recommended.
Vancouver joins Las Vegas, London, New York City, Miami, Los Angeles and San Diego as the newest city in MyRSVP's expanding reach. The company wants to show Vancouver that it's easier to party the night away.