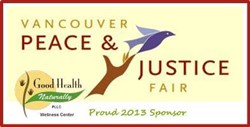 We believe we can help our community and world by helping people reach the levels of health and wellness they desire without costly drugs or surgery.
Vancouver, WA (PRWEB) August 15, 2013
As a sponsor of the 2013 Vancouver Peace and Justice Fair, Vancouver, WA Chiropractor Mark Blessley and the team at Good Health Naturally encourage local residents to get out, celebrate and help build community. "This will be our third time participating in the Peace and Justice Fair, but it will be our first time as a sponsor. We've enjoyed the interactions we've had with the Fair's staff and organizers as well as with the other attendees each of the other two times, so we're excited to support the event in a different way this year."
Asked about what the Fair means to the local community, Dr. Blessley explains, "The Peace and Justice Fair draws a diverse crowd of free thinkers, artists, musicians and so on. It's fun to see and hear the buzz, and music and good food abound. It will be time well spent, and we believe it helps the Vancouver community realize that there are many points of view and that there is strength in diversity. As someone once said, 'minds are like parachutes, they only function when open.'"
The Peace and Justice Fair features a wide variety of entertainment and family-friendly activities as well as exhibitors. It will take place from 9:00 AM to 4:00 PM on Saturday, September 7 in Vancouver's Esther Short park at West 8th and Columbia Streets. Admission is free to the public.
Good Health Naturally will have a booth focusing on educating the public about ways to get and stay healthy. "There are many common-sense but very powerful techniques that anyone can use to improve their health. We will promote ways to look better, feel better and perform better using the 'Eat, Move and Think Healthfully' model. We encourage everyone to come by our booth and say hi. And while you're there, please ask for our brochure—'10 Ways to Improve Your Health Easily and With Minimal Cost'."
You can learn more about the 2013 Vancouver Peace and Justice Fair on the even's official website: http://vancouverpeaceandjusticefair.org .
About Good Health Naturally Wellness Center
Good Health Naturally Wellness Center has been providing "Chiropractic With a Difference" to residents of Vancouver, WA since 2007. The Center specializes in helping people recover from injury or illness and coaching them to make better lifestyle choices that minimize future health problems. Services include chiropractic care, massage therapy, cold laser therapy, nutritional counseling and creative visualization and relaxation. Good Health Naturally also offers a variety of rehabilitation and posture aids, nutritional supplements and topicals.
Good Health Naturally Wellness Center
3606 Main St.
Suite 205
Vancouver, WA 98663
(360) 693-7781
http://healthonline.us
Follow Good Health Naturally on Facebook.