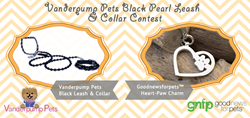 We are very excited to work with GoodNewsforPets.com on this charitable cause and help celebrate their 15th anniversary.
New York, NY (PRWEB) October 14, 2015
The October celebration of Goodnewsforpets.com's 15th Anniversary is underway featuring Veterinary Technician Week (October 11-17th), ASPCA's Adopt A Shelter Dog Month, and with a Vanderpump Pets contest with shelter donations. GoodNewsforPets.com is partnering with Vanderpump Pets to give away the company's new luxe black pearl collar and leash set to three lucky pets and their pet parents. Each winner will also receive an Elena Kriegner designed Paw Charm and designate a local shelter to receive a personal donation in their name. The contest runs from October 13th through October 23rd. Winner prizes will be shipped in time for Halloween. To register for the contest, click here.
Lisa Vanderpump, pet lover, founder of Vanderpump Pets, reality television star, entrepreneur and philanthropist, says, "We are very excited to work with GoodNewsforPets.com on this charitable cause and help celebrate their 15th anniversary. Our new Fall / Winter Collection line has recently launched on http://www.vanderpumppets.com to a great deal of interest and we want to give back to those who really love the product and are also dedicated to working with shelters and supporting them. We hope you enjoy the beautiful black pearl look—perfect fall fashion and for a great cause!"
Vanderpump is famous for not only her kind on air persona, but for her unabashed love of animals. Goodnewsforpets.com Founder and Publisher Lea-Ann Germinder, APR Fellow PRSA applauds Lisa's tireless and substantial commitment. The celebration of 15 years of Goodnewsforpets.com content gives "paws" for reflection.
As President of Germinder & Associates, Germinder herself has been behind the scenes as an advisor to many organizations, including the American Humane Association and orchestrating dozens of public awareness campaigns to benefit pets. Through Goodnewsforpets.com, she has published dozens of interviews—raising attention to the benefits of pets in our lives. The site has also donated thousands of dollars to shelters and animal welfare organizations over the years.
"Partnering with Vanderpump Pets brings all our interests together – the celebration of the Goodnewsforpets.com 15th Anniversary, highlighting Lisa Vanderpump, a woman who is committed to benefiting pets, promoting a great product line in Vanderpump Pets, and continuing our tradition of giving back. Thank you Lisa for being part of this celebration," says Germinder.
The VP Black Pearl Collar is one of the staple pieces to have launched in the original Vanderpump collections. It is made of 10mm & 6 mm brilliant acrylic beads, sewn atop a strong fabric collar, designed for small to medium sized pets (up to 25 pounds) only. The collar sparkles and shines when light hits the black pearl beads for a dramatic, luminating effect. The collar itself is made from industrial steel cable, and is decorated with these beautiful faux pearls.
The VP Pets Black Pearl Leash with Designer Link Handle was made to be worn with the collar, bringing durability, affordability, and style to a whole new level. The beaded leash is complete with luminating pearl beads, a couture chain handle, and was tested for exceptional durability. It can be combined with the VP Black Pearl Collar, or be worn as a standalone piece. The couture chain handle has leatherette finishing, alongside 10mm & 6 mm brilliant acrylic beads. The leash is also made for small to medium sized pets (up to 25 pounds) only. In pull tests, the leash can withstand over 150 pounds, and it is also made from industrial steel cable, decorated with beautiful pearls and accessories. The leash is available in one size only (120 cm/47 inches).
About Lisa Vanderpump and Vanderpump Pets
Lisa Vanderpump and her pup Giggy, from Bravo's hugely popular shows Real Housewives of Beverly Hills and Vanderpump Rules, have launched a luxury pet lifestyle brand that is fit for the Beverly Hills pup, but priced for the everyday pooch. Lisa Vanderpump's dog Giggy is arguably as famous as she is: he's made appearances on Dancing with the Stars, been named The Hollywood Reporter's Best Dog on Reality Television, and even been dubbed the mascot of The Real Housewives of Beverly Hills by Andy Cohen himself. Now, the beloved Pomeranian has inspired a brand new venture for his owner: Vanderpump Pets, a series of glamorous dog collars and leashes to dress up your own pooch.
Helmed by Lisa and backed by her unstoppable team, over 2.5 million social media followers, celebrity friends and enraptured audience (over 6 million fans tuning in) - this series of affordable blinged out pet accessories is poised to make a HUGE splash in the over $60 billion pet industry (and growing).
Best of all: a portion of every sale from Vanderpump Pets will be donated to Lisa and Giggy's favorite dog charities. As Giggy himself explains, "With every purchase of one of my trendy leashes or collars, a percentage of the purchase will help animals who have suffered terrible fates and deserve the celebrity life every fur baby is entitled. Together we can make a difference in the world, one luxury pet product at a time."
Contact Dr. John Sessa at 213.337.6761.
About Germinder & Associates & Goodnewsforpets.com
Germinder & Associates, an award-winning New York City-based agency that provides strategic counsel, digital publishing content, and national campaigns for niche markets including animal health and pet products. Goodnewsforpets.com has curated news of interest and importance to informed pet parents inclusive of the pet industry and veterinary profession since 2000. For more information contact Lea-Ann Germinder, APR, Fellow PRSA, President and Founder at lgerminder(at)germinder(dot)com or 212-367-2170.