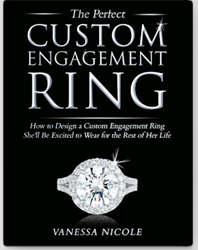 We want to make that moment when the groom presents his bride-to-be with the engagement ring an amazing one.
SAN DIEGO, Calif. (PRWEB) June 17, 2015
Custom diamond engagement ring designer Vanessa Nicole has announced the launch of her new book titled, "The Perfect Custom Engagement Ring: How to Design a Custom Engagement Ring She'll Be Excited to Wear for the Rest of Her Life." The 200 page volume, available in hardcover and as a Kindle download from Amazon.com, is an educational and photo-rich book that guides the reader step by step through the process of designing the diamond engagement ring of their dreams.
Vanessa Nicole developed the book as a tool for men and women who are searching for the "perfect" diamond engagement ring and find themselves overwhelmed by all the options. "The Perfect Custom Engagement Ring" helps couples become educated buyers by providing detailed information on the four "Cs" (color, cut, clarity and carat), descriptions of ring setting options, a guide to a variety of successful custom engagement ring creations with their stories and photos, plus 40 unique proposal ideas for grooms looking to make "popping the question" a memorable event.
First-time author Vanessa Nicole, who has been designing jewelry for more than 13 years, has created a start-to-finish custom engagement ring experience that fully enlists the groom or the couple to participate in the ring's design. Making it even more special, she offers her grooms the opportunity to document and record the creation of their fiancé's new ring on a DVD as a surprise keepsake for the bride.
The "Making of the Ring™" DVD features an interview with the groom as he expresses his love for his future wife. Vanessa Nicole has a knack for encouraging soon-to-be grooms to open up and share their true feelings for their bride, making the final DVD something extraordinarily intimate. The interview is artfully layered with video footage of the engagement ring as it is being crafted by Vanessa Nicole.
"We want to make that moment when the groom presents his bride-to-be with the engagement ring an amazing one," Vanessa Nicole says. "The DVD keepsake is such a romantic touch, something that our brides cherish almost as much as their ring."
The growing trend in custom-designed diamond engagement rings is fast outpacing sales of traditional preset rings, and for good reason. Buyers who select their own diamond based on their desired color, clarity, cut and carat usually end up with the highest quality diamond that their budget will allow; selecting a setting that suits her taste further adds to the one-of-a-kind quality of her ring.
Because of the markup on preset rings, buyers run the risk of purchasing a lower quality diamond in order to stay on budget. Every diamond sold by Vanessa Nicole is analyzed in-house to establish that it meets the company's strict standards for cut and brilliance, and is guaranteed to match its certificate.
"What other product does a person wear 24 hours a day, 7 days a week for up to 50 years or longer?" she asks. "Only the diamond engagement ring will remain unchanged on her hand for decades to come, which makes investing in the right ring so important."
Vanessa Nicole creates one-of-a-kind diamond engagement rings for national and international clients, most of whom find her company via the educational YouTube videos she produces and word-of-mouth recommendations. Still, it is the company's full engagement ring experience that sets her custom design services apart from her competitors.
"Working with Vanessa changed my whole engagement experience," says client Joe Nawikas. "At first, I was intimidated at the thought of designing my own engagement ring, but looking back I can't imagine it any other way."
Amazon.com will offer free Kindle downloads of "The Perfect Custom Engagement Ring" through Sunday, June 21, 2015. For more information, visit the Vanessa Nicole Custom Engagement Rings book website at theringbook.com or visit the Vanessa Nicole Custom Engagement Ring website. To contact, email media(AT)theringbook.com or call 619-800-0134.
About Vanessa Nicole:
With nearly half a million views logged on her educational YouTube videos, Vanessa Nicole is a rising star in the world of custom engagement ring design. Motivated by romantic scenes from Hollywood's silver screen classics, the San Diego artisan and master diamond setter took her jewelry design studio to the next level by creating the company's one of a kind "Making Of The Ring™" film service for clients.
By maintaining a monthly roster of 8-10 clients, Vanessa Nicole is able to provide the most personalized, one-on-one engagement ring design services. The author of the book, "The Perfect Custom Engagement Ring" enjoys a five-star rating on Yelp and other customer review sites. She has earned the Best of San Diego Award as one of the top two Jewelry Stores in San Diego, was named a Rising Star Award Nominee by the National Association of Women Business Owners and received a Bank of America Fine Arts Recognition Award. She also received a grant from the Society of North American Goldsmiths (SNAG), as well as grants to study her craft in Sydney, Australia and Florence, Italy.
###