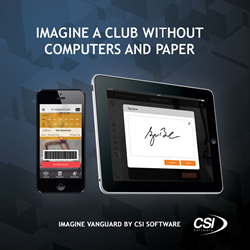 Check-In, book, register, process payments, capture electronic signatures, and much, much more on our mobile engagement system.
Houston, TX (PRWEB) October 24, 2014
CSI Software, maker of the #1 club management software solution in the health and fitness industry according to the Top 100, announces Vanguard, a mobile engagement system for health and fitness companies. Vanguard utilizes tablets and smartphones to navigate mobile applications, ushering in a new era of computing for today's always-on, connected business world. Vanguard helps eliminate computers and paper, even communication gaps between customer and staff. Together with Mobility, CSI Software's mobile app for customer account management, check-in, scheduling and registration, Vanguard will make the health and fitness industry faster and better connected. CSI will introduce Mobility in early November.
Vanguard is packed with innovative features that both enhance and complement SpectrumNG, CSI Software's flagship data management system. Vanguard is designed for speed and transparency, using shared interfaces across familiar technology like iPads and iPhones. Vanguard will enable CSI Software customers to close more memberships and sell more club products and services while on the move.
Vanguard also creates a self-service environment for scheduling trainers and classes, empowering end users and automating critical club applications. Push notifications, electronic signature and proximity are just a few of the features CSI Software says will make everyday processes more seamless and dynamic. Sales, trainers and management will all benefit from Vanguard's easy-to-use applications. As for the pro shop and food and beverage, POS equipment can be easily integrated into Vanguard's ecosystem of hardware and software. In addition, Vanguard allows developers to build REST APIs using the most popular development platforms. APIs help integrate devices and applications while opening up endless opportunities for revenue growth and user experiences.
Mobility, CSI Software's mobile app, is written in native iOS for greater reach and flexibility. This branded app is fully integrated with SpectrumNG and can be customized to each facility's specifications. Mobility will allow members to check-in, manage their account, register for classes and programs, schedule appointments, and more. Mobility also integrates with SpectrumNG's CRM module for quick lead follow-up.
Find out more about the CSI Software Mobile App.
Where Vanguard benefits health and fitness:

POS for food and beverage and pro shop
Sales staff for reach and instant, paperless contracts
Trainers for scheduling and selling training packages
Members for convenience and real-time connections
Third-party apps consumed with ease and transparency
Push notifications for speed and awareness
Sharing, sharing and more sharing
CSI Software provides fully integrated, single source fitness club management software, enterprise solutions to health and fitness clubs, campus recreation centers, parks and recreation facilities, wellness centers and hotels and fitness resorts, as well as JCC, YMCA and YWCA organizations.