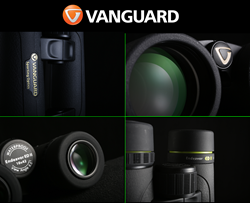 Crisp, Bright Optics, and Great Eye Relief
Whitmore Lake, MI (PRWEB) July 08, 2014
Vanguard, a global leader in Photo / Video and Sports Optics Products is introducing the Endeavor ED II line of binoculars. Building on the successful foundation of the award winning Endeavor ED binoculars, Endeavor ED II brings Vanguard Optics to another level.
The Endeavor ED II series offers the latest Vanguard optical technology enhancements including premium Japanese ED (Extra-low Dispersion) glass with edge-to-edge advanced clarity that enhances light transmission.
According to Doug Feldner, Director of Sales and Marketing, "We are delighted that the Endeavor ED II provides birders, hunters, and outdoor enthusiasts with amazing quality, color, and clarity at a reasonable price."
The new Vanguard Endeavor ED II series has a redesigned look and feel. This new series of optics are nitrogen purged to prevent fogging, and are completely waterproof and shockproof. The magnesium alloy body offers exceptional strength and stability, the ergonomics and open-bridge design allows for comfortable use in any situation.
The Endeavor ED II, Vanguard's top-of-the-line binocular series, is offered in 8x32, 8x42, and 10x42 sizes. Vanguard's Premium ED glass stands above the competition with elite color fidelity and elimination of chromatic aberration in the most challenging viewing environments.
Twist-up eye pieces feature 3 levels to accommodate eyeglass users, and a right side locking ocular diopter control provides customized optical tuning. Endeavor ED II comes complete with a carrying case, lens caps, and neck strap.
Vanguard is committed to developing optics of superior design, performance and value. Confidence in our products and a commitment to deliver only the highest level of service led to creation of the Vanguard Premium Lifetime Warranty. This consumer-friendly lifetime guarantee ensures that consumers can purchase Vanguard Optics without worry. If your Vanguard optics are ever broken or damaged, we will repair or replace them free of charge – no questions, no hassle.
Endeavor ED Pricing:

Endeavor ED II 8x32 $399.00
Endeavor ED II 8x42 $499.00
Endeavor ED II 10x42 $499.00
About Vanguard
Since 1986, VANGUARD has been one of the global leaders in hunting and outdoor accessories, including binoculars, spotting scopes, shooting sticks, tripods and gun and bow cases. With first-of-their-kind features and capabilities, VANGUARD's comprehensive product range meets the needs of a diverse range of all those who enjoy the outdoors, from the hobby birdwatcher to the avid big game hunter. With ISO 9001 and 14001-certified facilities and hundreds of design patents, VANGUARD has earned a solid reputation that spans the world. Visit http://www.vanguardworld.com.
###