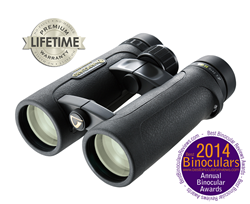 Vanguard Endeavor ED II 8420 binocular is superb. Not only is it very bright, but is sharp and flat right to the edges...I feel Vanguard has excelled and they match binoculars that are significantly more expensive.
Whitmore Lake, Michigan (PRWEB) October 07, 2014
Vanguard, global leader in sporting optics and accessories, is pleased to announce that BestBinocularReviews.com has named the Vanguard Endeavor ED II 8x42 binoculars the Best Wildlife Observation Binocular of 2014.
BestBinocularReviews.com is a compendium of in-depth reviews of the best binoculars available on the market, and this year marks the 5th annual Best Binocular Reviews Awards.
To win the Best Wildlife Observation Binocular category, the candidate was required to be lightweight, extra tough, and to have excellent image brightness and quality. Jason Whitehead of BestBinocularReviews.com writes that its winner the Vanguard Endeavor ED II 8x42, with its Japanese extra-low dispersion glass, not only looks "super bright in low light, but is vibrant, completely sharp, flat right to the edges and with almost no perceptible color fringing." The review continues: image quality "is one area where these Vanguard bins truly excel and even though they now sit within the mid-high value category, I feel they easily match bins are significantly more expensive."
The Endeavor ED II features outstanding Japanese ED glass, an ergonomic, comfortable open-bridge design, adjustable 3-level twist-up eye pieces, along with a locking diopter adjustment. All models are nitrogen purged to prevent fogging and are completely waterproof.
Vanguard is committed to developing optics of superior design, performance and value. Vanguard takes pride in developing an ongoing, lifelong relationship with you, the consumer. Due to Vanguard's extreme confidence in their products and their insatiable desire to deliver only the highest level of service, they have created the most consumer-friendly lifetime guarantee in the industry.
If your Vanguard optics are ever broken or damaged, Vanguard will repair or replace it free of charge – no questions, no hassle. That's Vanguard's Premium Lifetime Warranty.
Endeavor ED II comes complete with a carrying case, lens caps, and neck strap. Sizes include 8x32, 8x42, and 10x42. The Endeavor ED II 8x42 is available for $499.99 at http://www.vanguardworld.com, and other fine retailers such as Amazon, Eagle Optics, and B&H Photo.
ABOUT VANGUARD
Since 1986, VANGUARD has been a global leader in sporting accessories, including binoculars, spotting scopes, shooting sticks, and tripods. Vanguard has also provided photographers around the world with innovative, high-quality tripods, monopods, ball heads, pan heads, bags, cases, optics and other photography accessories. With ISO 9001 and 14001-certified facilities and hundreds of design patents, VANGUARD has earned a solid reputation that spans the world. For more information about VANGUARD visit http://www.vanguardworld.com.