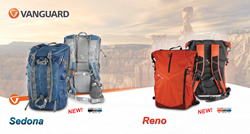 We are designing products to support passionate professional and amateur photographers in their quest for amazing images
Whitmore Lake, Michigan (PRWEB) May 27, 2014
VANGUARD, global leader in photo-video accessories and sports optics, is proud to announce the two newest lines in their award-winning camera bag lineup. Sedona and Reno camera bags represent the perfect combination of form and function. With stylish designs, both lines are perfect stealth camera bags for travel and photography. Sedona backpacks and slings incorporate features and a look reminiscent of a classic hiking backpack. Reno's stylish design offers a departure from boring camera bags typically carried in urban jungles or on road trips, without emptying your wallet.
"These lines continue our commitment to supporting the 'real' photographer in the US" stated Doug Feldner, Director of Sales and Marketing. Feldner add, 'We are designing products to support passionate professional and amateur photographers in their quest for amazing images."
Sedona Camera Bag Collection
Much like its namesake, the Sedona Bag collection by Vanguard is a study in Rugged Beauty. Sedona bags are perfect for both the seasoned professional or the adventurous amateur. Photographers will enjoy each bag's balance between gear protection and lightweight design. The collection contains slings (two sizes) and backpacks (three sizes) that can be easily converted from a daypack to a full-gear backpack and even an everyday bag. A Multiple Hanging System includes two higher front straps to hold large accessories such as sleeping bags. A tripod, monopod (A must for the real photographer) or walking sticks can also be connected to the Sedona Sling with ease. Clad in lightweight ripttop nylon, all models are available in black, Kahki / Green and Blue.
Reno Camera Bag Series
When striking out on a chance photo adventure, photographers of all ability levels will appreciate taking a Reno Collection camera bag along for the ride. Perfect for use in the urban jungles or any outdoor environment, Reno camera bags provide gear protection with a stylish design. The Reno collection contains full-featured shoulder bags (two sizes), a sling (one size) and backpacks (three sizes). Grab a Reno bag and you have the perfect companion for your next photo odyssey. The All bags are made with rip stop nylon and are available in Blue, Khaki / Green and Orange (Vanguard's Signature Color).
For details on all Sedona and Reno bags, visit http://www.vanguardworld.
About VANGUARD
Since 1986, VANGUARD has been one of the global leaders in hunting and outdoor accessories, including binoculars, spotting scopes, shooting sticks, tripods and gun and bow cases. With first-of-their-kind features and capabilities, VANGUARD's comprehensive product range meets the needs of a diverse range of all those who enjoy the outdoors, from the hobby birdwatcher to the avid big game hunter. With ISO 9001 and 14001-certified facilities and hundreds of design patents, VANGUARD has earned a solid reputation that spans the world. Visit http://www.vanguardworld.com