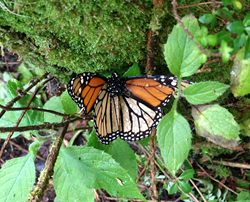 Washington, D.C. (PRWEB) September 23, 2014
Our children are less likely to see monarch butterflies, a bumblebee, and a host of other once-common wildlife species due to farm pesticides, declining ocean health, climate change and dirty energy production, according to a new report by the Endangered Species Coalition. The report, Vanishing: Ten American Species Our Children May Never See, highlights ten disappearing species and the causes of their dramatic population declines. Additionally, the report identifies everyday actions that people can take to help slow the disappearance of our nation's iconic wildlife. The report can be viewed and downloaded from the website: vanishingwildlife.org
"With each passing day, our children are less and less likely to experience the full beauty of nature and see the kind of wildlife that baby boomers, Gen Xers, and even Millennials experienced," said Leda Huta, executive director of the Endangered Species Coalition. "We owe it to our future generations of Americans to protect our vanishing wildlife and the special places they call home."
According to the report, up to a billion monarch butterflies used to color our skies each summer, yet only about 33 million remain – a decline of more than 90 percent. Additionally, the once-common little brown bat has been decimated by the fungal disease, White-nose syndrome, and is now virtually extinct in the Northeast United States. Finally, the rusty-patched bumblebee, an important pollinator, has disappeared across 87 percent of its range, and diseases are thought to be responsible.
Coalition member groups nominated wildlife species in the report. A committee of distinguished scientists reviewed the nominations, and decided which species should be included in the report. "Scientists agree that climate change is a huge threat in many direct and indirect ways to species diversity and survival," said Dr. Jan Randall, Professor Emeritus of Biology at San Francisco State University, and chair of the scientific advisory committee for the report.
"As the situation for many species grows ever more dire, our direct actions are able to rescue some of them from extinction," said Dr. Peter Raven, President Emeritus, Missouri Botanical Garden. "This list should inspire hope and at the same time lead us to devote full attention to the species most in need."
The ten species in the report are the mountain yellow-legged frog, monarch butterfly, North Pacific right whale, great white shark, little brown bat, whitebark pine, rusty patched bumblebee, greater sage-grouse, polar bear, and the Snake River sockeye salmon.
"Snake River sockeye are among the highest and farthest migrating salmon on the planet – climbing 6,000 feet in elevation and 900 miles against the current to return to their spawning grounds," said Sam Mace, Inland Northwest Program Director for the Save Our wild Salmon Coalition. "We are the last generation that can save these extraordinary fish from extinction."
"The monarch butterfly is a part of almost every child's summer experience," said Sarina Jepsen, endangered species program director at the Xerces Society. "The loss of such a widespread butterfly suggests that we are changing our landscape at an unprecedented scale."
"When species like monarch butterflies and whitebark pine are in trouble, that means we're all in trouble, because they're leading indicators of the health of the planet," said Frances Beinecke, President of the Natural Resources Defense Council. "By acting now to conserve these animals and plants for future generations, we will also be restoring our natural heritage and creating a safer, healthier world for all."
"This report does a great service by calling attention to the fact that species are vanishing before our eyes, including species like the little brown bat, which are underappreciated and, despite their small size, are of enormous value to our ecosystem," said Cathy Liss, President of the Animal Welfare Institute.
The Endangered Species Coalition has also produced a slide show to accompany the report, featuring stunning photos of each of the ten species in the report. The Coalition produces a "Top 10" report annually, focusing on a different theme each year. Previous years' reports are also available on the Coalition's website, http://www.endangered.org.
The Ten American Species Our Children May Never See:
Mountain yellow-legged frog
Ninety-five percent of the Sierra Nevada and Southern California mountain yellow-legged frog populations have gone extinct due to human degradation of their habitats. Lakes we've stocked with trout are devoid of tadpoles, and pesticide contamination causes mutations, sterility, and death. More than 1,800 species of frogs currently face extinction.
Contact: Tierra Curry, Center for Biological Diversity, 928-522-3681, tcurry(at)biologicaldiversity(dot)org
Monarch butterfly
Monarch butterflies are totally dependent on milkweed for survival, but the wide-spread use of pesticides is killing off milkweed across millions of acres of the monarch's core summer habitat. Climate change and illegal logging in their Mexican winter refuge further imperils the monarch's survival.
Contact: Sarina Jepsen, Xerces Society, 971-244-3727, sarina(at)xerces(dot)org
North Pacific right whale
The North Pacific right whale is the most endangered whale on Earth; there may be as few as thirty remaining in U.S. waters. Lack of genetic diversity and diminishing food sources due to climate change are major threats, but human activities—oil spills, ship strikes, and the Navy's live sonar testing—may be sounding the death knell for this marine mammal.
Contact: Bill Rossiter, Cetacean Society, 203-770-8615, rossiter(at)csiwhalesalive(dot)org
Great white shark
Only about 350 adult great white sharks remain off the coasts of California and Mexico. Hunting these sharks is illegal, but hundreds of young sharks are inadvertently caught in fishing nets and die each year. Great white sharks are the largest predatory fish and are important to maintaining balance in their ocean ecosystem.
Contact: Amelia Vorpahl, Oceana, 202-467-1918, avorpahl(at)oceana(dot)org
Little brown bat
Little brown bats are in peril due to white-nose syndrome, an illness caused by a deadly fungus from Europe. These bats are virtually extinct in their core Northeast range, and up to 99 percent have died in affected areas. Weakened immune systems due to pesticide exposure and human disturbance in their caves are also factors in their demise.
Contact: Katie Gilles, 512-327-9721, Bat Conservation International, kgillies(at)batcon(dot)org; Amey Owen, Animal Welfare Institute, 301-706-1390, amey(at)awionline(dot)org.
Whitebark pine
Whitebark pine forests used to be plentiful high in the Rockies, but climate change has allowed beetle infestations and fungal disease to destroy these trees. More than 100 species depended on this pine for shelter and food, and the pine's shading limbs regulated snow melt well into summer.
Contact: Sylvia Fallon, Natural Resources Defense Council, 202-513-6246, sfallon(at)nrdc(dot)org
Rusty patched bumblebee
The rusty patched bumblebee is a critical pollinator. Its "buzz pollination" produces tomatoes that are consistently larger and sweeter than those produced by other pollination techniques. The rusty patched bumblebee is threatened by diseases from commercial bumble bees. All bumblebees face threats from the use of neonicotinoid pesticides on plants that can even make their nectar and pollen toxic.
Contact: Sarina Jepsen, Xerces Society, 971-244-3727, sarina(at)xerces(dot)org
Greater sage-grouse
The greater sage-grouse's habitat once encompassed nearly 300 million acres, but their range has declined dramatically as humans have moved in to graze livestock and drill for oil and gas, without regard for sage-grouse habitat needs. Hundreds of miles of roads have fragmented sage-grouse populations, which are in peril due to aggressive degradation of their habitat.
Contact: Steve Holmer, American Bird Conservancy, 202-888-7490, sholmer(at)abcbirds(dot)org; Mark Salvo, Defenders of Wildlife, msalvo(at)defenders(dot)org
Polar bear
Polar bears are entirely dependent on ice for fishing, and a large adult requires an average of 4 to 5 pounds of seal blubber every day just to maintain its weight. But as climate change alters their habitat, they are being forced inland for denning, breeding, and feeding.
Contact: Contact: Shaye Wolf, Center for Biological Diversity, 415-632-5301, swolf(at)biologicaldiversity(dot)org
Snake River sockeye salmon
Federal dams block the lower Snake River, making it almost impossible for these salmon to migrate to their spawning grounds high in the Rocky Mountains. These are the most endangered salmon in the world, but scientists agree that they can make a comeback if the river is unblocked so they can complete their life cycle by migrating to and from Redfish Lake.
Contact: Sam Mace, Save Our Wild Salmon, 509-863-5696, sam(at)wildsalmon(dot)org