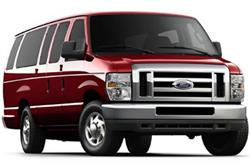 Van Rental Center notes that there are several ways that families and groups can save money by using van rentals wisely.
Los Angeles, CA (PRWEB) July 22, 2015
An article published July 9th on SavingAdvice.com outlined several different ways in which travelers can save money when planning summer road trips. Some of the things the article advises are eating cheaply, packing wisely, and setting a budget. Yet, Los Angeles van rental agency Van Rental Center would like to add that any discussion of budgeting when planning a road trip for a large group should also include weighing the affordability of a van rental. "While some families and small traveling groups have a big enough vehicle to fit everyone and their luggage," says Van Rental Center, "Many others must find transportation large enough to accommodate their group." Van Rental Center notes that there are several ways that families and groups can save money by using van rentals wisely:

"Driving Instead of Flying" – Many travelers who value arriving at the destination far more than the journey itself will often opt for air travel, even for relatively nearby destinations, notes Van Rental Center. The trip from Los Angeles to Las Vegas in particular, they note, is one that can be taken by ground or by air. Many of their customers are people who have realized that, with the group size that they are travelling with, it is actually much more affordable to travel via van than having to buy individual tickets for air travel. Van Rental Center also notes that, because they have a drop-off center in Las Vegas, one-way trips are also an option.
"Upsizing Vehicles" – Although an 8 passenger van rental in Los Angeles is one of Van Rental Center's most popular options, many groups realize that they can save on gas by up-sizing the capacity of their van and reduce the number of vehicles that they need to transport the whole group. Van Rental Center has vehicles with capacities of up to 15 passengers. Van Rental Center adds that fitting everyone in one vehicle can not only save on gas, it can also help create a more tight-knit travel group, a priceless bonus for any business trip or vacation.
Van Rental Center assures that all of their vans are clean and air-conditioned, so everyone can have an enjoyable ride while getting where they need to go. Families or travel organizers interested in making a reservation for any size of van, or learning more about Van Rental Center's selection and rates, can call them at (310) 568-8230, or visit them online at http://www.vanrentalcenter.com.