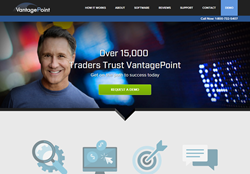 Wesley Chapel, Florida (PRWEB) January 27, 2016
The site delves into the three main pillars of technology behind the powerful software to help traders understand Market Technologies' trend forecasting capabilities. Updated accuracy measurements, videos and third-party publication reviews work together to provide a detailed overview of VantagePoint's application across stocks, futures, forex and etfs.
"User experience was at the top of our priority list" says Vice President, Lane Mendelsohn. "That's why our new website was designed for seamless viewing and use on multiple browsers and devices."
The new website features a revamped Learning Center for customers that contains various training videos and documents. Also available are numerous software overview videos that provide prospective customers with an in-depth walk-through of the technology.
"We wanted our new website to tell a story" says Mendelsohn. "At the heart of our story is our customers. Our new website highlights their stories and their success with the software as that is what drives our company forward."
There are plans to additional features such as live chat support and an upgraded shopping cart in the near future. Almost every addition on the website comes from suggestions from customers and website visitors. Market Technologies wants all experiences, whether on their website or direct with their company, to be nothing shy of top-notch.
Let them know what you think of the new site by posting a comment on their Facebook page.
About Market Technologies (https://www.tradertech.com)
Founded by Louis B. Mendelsohn in 1979, Market Technologies is an Inc. 500 company headquartered in the Tampa Bay area. It is the recognized global leader in market trend forecasting with customers in well over a hundred countries worldwide. Market Technologies develops proprietary trend forecasting and market timing technologies that utilize artificial intelligence and intermarket analysis to forecast commodity and financial markets throughout the world. These include, but are not limited to, stocks, stock indices, ETFs, energies, interest rates, currencies, metals, grains, meats, softs, and Forex, all covering more than 2600 world markets.