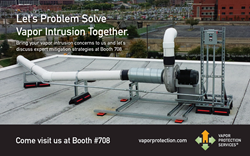 When choosing a radon contractor, be sure they don't approach vapor intrusion as though it's just like radon. They need to understand that they are partnering with consultants who may be utilizing remediation technologies at the same site
Indianapolis, Indiana (PRWEB) March 12, 2014
As environmental consultants face growing concerns about the effects of vapor intrusion on indoor air quality and the health impacts for home and business owners, the Indoor Air Quality Association (IAQA) Annual Expo in Nashville, TN, will feature speakers on VOC sampling, indoor air quality assessments (IAC) and investigations for chemical contaminants in air that have harmful impact on human health. Vapor Protection Services, a sub-contracting company specializing in mitigating harmful gases from indoor air space, is pleased to share mitigation strategies with consultants, March 17-19, at the Gaylord Opryland Resort & Convention Center where Nicolas Martinez and Joseph Miller, both certified by the National Radon Proficiency Program, will show attendees how radon technology can be applied successfully to vapor intrusion concerns in vendor booth 708.
When choosing a radon contractor, be sure they don't approach vapor intrusion as though it's just like radon. They need to understand that they are partnering with consultants who may be utilizing remediation technologies at the same site, says Nicolas Martinez, Director of Technical Services for Vapor Protection Services. Consultants may have clients with multi-million dollar environmental claims, which may take years of investigation and remedial measures before regulatory agencies award site closure. Adds Account Manager, Joe Miller, radon contractors don't understand they are being hired to install an effective system for volatile organic compounds (VOCs) with much larger legal ramifications than closing a home sale.
Clients and property owners, especially drycleaners, with PCE, TCE, or benzene contamination issues, appreciate when we install a reliable system that is not only effective, but also doesn't detract from the aesthetic quality of their property, says Martinez.
Vapor Protection Services offers various strategies to resolve the challenges that site conditions present. "This is what consultants at IAQA in Nashville will want to talk about, how specific site conditions may effect the long-term performance of a sub-slab depressurization system (SSDS)", says Martinez.
Vapor Protection Services offers an Advanced Diagnostics phase for system design that includes thorough field communications testing to establish the radius of influence needed to successfully depressurize and mitigate harmful vapors from indoor space. Designing a system that meets the performance criteria of environmental consultants for vapor intrusion exceeds EPA guidelines for radon mitigation. At IAQA in Nashville, attendees will have a chance to explore vapor intrusion sampling and mitigation technologies, March 17 – 19 at the Gaylord Opryland Resort & Convention Center.
If you have any questions regarding Vapor Protection Services, individuals are encouraged to log on at http://vaporprotection.com or calling 317-252-5295.
Press release was distributed by Green eSolutions.