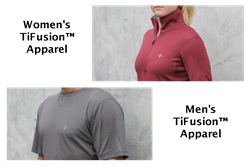 What we've created with TiFusion™ is a lightweight, performance driven line using the latest advancements in titanium technology. We're taking active apparel to the next level.
Lewisburg, PA (PRWEB) March 27, 2015
Vargo's dedication to using titanium in innovative ways led to a discovery of infusing it into apparel to create clothing with unprecedented properties. Unlike other active apparel, TiFusion™ apparel is self-cleaning and faster drying while reducing odors and increasing UV protection, and is made of safe, nontoxic ingredients.
TiFusion™ is a nontoxic mineral solution that reacts with light to produce its unique properties. In either sunlight or artificial light, TiFusion™ naturally attracts water molecules that, in turn, push other molecules off the fabric. This process forces dirt and oils off the apparel giving it its self-cleaning properties. At the same time, TiFusion™ prevents water from beading on the surface of the apparel causing it to sheet off and dissipate for up to 25% faster drying times than uncoated apparel*. Light also helps TiFusion™ to break down odor causing agents on the material into nonvolatile compounds to render odors odorless. Though light plays a key role in the performance of TiFusion™, TiFusion™ also helps block up to 97% of UV rays to help protect the fabric and wearer from UV damage.
Vargo's initial apparel offering includes men's and women's midweight short-sleeve shirts and ¼ zip long-sleeve fleece shirts, both of which are designed to layer together perfectly. The men's Slag and women's Gem short-sleeve shirts offer enhanced stretch and breathability in key areas with stretch mesh paneling. Trim fitting cut and elongated hems (dropped hem for the women's shirts) ensure better fit and style than boxy cut shirts. The men's Bedrock and women's Ingot ¼ zip shirts can be worn on their own or as an insulating layer overtop the Slag or Gem. Offset stitching between the two styles helps to minimize potential chafing. A ¼ length invisible zipper aids in venting during exertion while the stretchy underarms increase range of motion. The entire TiFusion™ apparel line incorporates reflective logos and printing to increase visibility during night time activities.
Says Vargo President, Brian Vargo, about TiFusion™:
"At Vargo, we're proactively searching for new and innovative ways to use titanium. For several years now we've wanted to get into the apparel market but weren't sure how to do that in a way that was uniquely Vargo. When we discovered the amazing properties that titanium has when infused with fabric, we knew it was a no-brainer. What we've created with TiFusion™ is a lightweight, performance driven line using the latest advancements in titanium technology. We're taking active apparel to the next level."
Unlike other chemical apparel treatments which utilize silver, a heavy metal, to neutralize odor on the apparel, TiFusion™ uses titanium dioxide and other safe, nontoxic mineral ingredients to destroy odor causing agents on the apparel. Further, no other chemical apparel treatment offers the additional benefits of TiFusion™, namely increased drying times (25% faster in laboratory tests*), self-cleaning properties, and increased protection from harmful UV rays*.
Vargo TiFusion™ is available now through http://www.vargooutdoors.com and specialty retail stores worldwide.
For more information about Vargo TiFusion™, including product images and video, please visit http://www.vargooutdoors.com/apparel.
Vargo TiFusion™ - MSRP $50.00 (women's/men's short-sleeve) and $80.00 (women's/men's long-sleeve).
SIZES:
Women's: XS-XL
Men's: S-XL
*See our lab results at http://www.vargooutdoors.com/tifusion-research-data/
About Vargo:
Since 2002, Vargo has been an award winning manufacturer of innovative ultralight backpacking gear. Primarily using titanium, an ultralight yet ultra-strong material, Vargo has developed a unique line of products that reflect its commitment to improve and simplify outdoor gear design and utility.