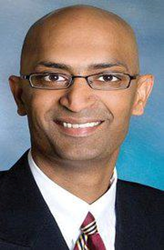 We hope to reach even more patients and help them get the treatment and care they need.
Los Angeles, CA (PRWEB) July 20, 2016
California Varicose Vein & Vascular, a leading physician-owned vascular surgery practice that serves patients in Kings County, Fresno County, Tulare County, Kern County and the surrounding area, announced today that it has opened a new practice in the heart of Los Angeles' Westwood Village. The announcement was made by the practice's co-founders: board-certified surgeon Dr. Sheikh A. Latif, DO, FACOS, FACS; and Liz Bardelas, PT, MBA.
The new practice is located in the Westwood Medical Plaza at 10921 Wilshire Boulevard, Suite 409, which is adjacent to UCLA and the Hammer Museum. The building which is accessible from the San Diego Freeway (405) features ample on-site parking with valet and attendant, fitness center, and pharmacy. The practice's other California practice is located at 1519 Garces Highway, Suite 103 in Delano, CA and 1320 Bailey Drive Suite 103 in Hanford, CA.
California Varicose Vein & Vascular specializes in the diagnosis and treatment of vascular conditions, including abdominal aortic aneurysms, peripheral artery disease (PAD), varicose veins, chronic non-healing leg wounds, and placement and maintenance of dialysis access.
The practice also offers an alternative to the traditional vein stripping procedure for patients with superficial venous reflux -- which is the underlying cause of varicose veins. "Statistics show that only 5 percent of people who suffer from symptomatic venous reflux seek treatment, which when left untreated can lead to significant clinical issues like pain, swelling, burning, itching, poor wound healing, varicose veins, skin changes and ulcers, plus it can cosmetically disfigure the leg," commented Dr. Latif, who has held clinical teaching positions at AT Still University, UC Davis School of Medicine, and Touro University. "By opening our new Los Angeles location, we hope to reach even more patients and help them get the treatment and care they need. While varicose veins are often benign, they can be a sign of venous disease, and must be diagnosed and treated by a vascular specialist to avoid progression to chronic venous insufficiency."
"Our commitment to serve the community is rooted in our family values," commented Liz Bardelas, who is also the founder of Bea Skincare and Cosmetics, LLC, a leading skin care and cosmetics company. "So many people suffer from symptoms of superficial venous reflux. We believe that expanding our practice, so we can help more people, is the right thing to do at this point in our practice's history and evolution."
More information on Dr. Latif and California Varicose Vein & Vascular is available at http://www.californiaveinandvascular.com or by calling (877) 360-8346.
Current and prospective patients can also download the practice's free iPhone and iPad app from the Apple App Store, through which they can learn more about the practice, get directions, schedule an appointment, read reviews, submit an inquiry, or get in touch via email or phone.