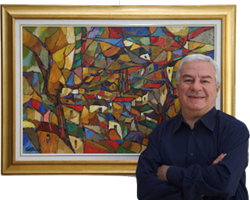 I want my art to be friendly and transparent, like my character.
Nicosia, Cyprus (PRWEB) January 09, 2014
Artist Vartan Tashdjian, who enjoyed successful solo exhibitions in Los Angeles and Nicosia in October and November, respectively, is featured in a euronews le mag segment, "Celebrating contemporary art in Cyprus."
The le mag interview with Vartan takes place at his recent Nicosia exhibition, which ran from the 13th of November through the 24th. The exhibition, which featured 32 original paintings, was sponsored by KPMG Cyprus and inaugurated by the Minister of Culture and Education. On the opening night of the exhibition, several hundred guests screened a documentary about Vartan, Shades of Tranquility. The Nicosia exhibition followed an exhibition of Vartan's paintings in Pasadena, California, on the 23rd and 24th of October.
Of Armenian origin, Vartan was raised in Cyprus, and his paintings are a celebration of the island's natural beauty. Vartan's experience of the island, as rendered in his paintings, is as visceral for him as his heartbeat.
He tells Euronews: "My source of inspiration is nature and especially Cyprus nature. As you notice, I present Cyprus nature in a completely different way. In Cyprus and especially at the seaside, I feel myself like coming home. If you ask me why, at a time like this, when our country is going through some difficulties, we are organizing such an exhibition. My answer is: life goes on. We have to be optimistic."
Vartan has exhibited work in Los Angeles, Toronto, Montreal, London, Athens, Sydney, Bangkok, Dubai and Beirut – no other Cypriot painter has exhibited work in so many international venues. For more information about the artist and to view additional paintings, please visit Vartan's website or Facebook Page.