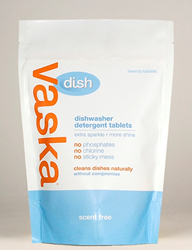 Watsonville, California (PRWEB) April 22, 2015
Vaska is excited to announce a new addition to our family of products – Vaska Dish! Since 1999, Vaska has been a pioneer and championing force in green chemistry. Our all-natural laundry products help keep homes healthy, and now we are conquering your dirty dishes with safe, natural, phosphate-free, chlorine-free dishwasher tablets.
Why are the ingredients in dishwasher tablets important? Phosphates and chlorine can negatively affect the environment and your health. Phosphate-containing dishwasher soaps and detergents enter into municipal and domestic wastewater that can contaminate natural water sources. Excessive phosphate levels then create algae blooms that release damaging CO2 that kills aquatic life, causing water to taste and smell bad.
Chlorine bleach is highly acidic and may cause skin irritation and redness. Its fumes can irritate eyes, nose and airways, and it can be fatal if swallowed. Chlorine's toxicity becomes even more harmful when it combines with carbon molecules, creating organ chlorines, such as dioxin. Dioxin is a known carcinogen, which is capable of causing cancer in humans or animals.
Vaska's commitment to clean living means that our new proprietary dishwasher tablets are made without the plastic shrink-wrap found on traditional dishwasher tablets, so there's no toxic solvents, no sticky messes, and they dissolve 100%! Vaska Dish cleans naturally without compromise.
Vaska Dish will be available in a refreshing lemon rosemary scent and scent-free. The twenty-tablet pouch will retail for $5.39. Vaska Dish will be available to purchase online at retailers, such as Amazon.com and Soap.com next month.
About Vaska
Vaska was founded in the health conscious Bay Area town of Berkeley, CA in 1999. A fashion designer conceived of the formula, after exhausting her search for an effective laundry detergent suitable for delicate fabrics, sensitive skin, and the planet. Perfected over the last 15 years, Vaska's natural formula is derived from herbs, and includes essential cleaning agents to effective remove dirt, stains, and odor from your clothes. The Vaska formulation has been certified "natural" by the EPA, who awarded Scent-free Laundry Detergent and our Oxygen Brightener the Design for the Environment (DfE) certification. Vaska's products are 100% biodegradable, hypoallergenic, they are never tested on animals and are greywater safe.
Vaska can be found at groceries across the country, as well at online retailers such at amazon.com, drugstore.com, soap.com and vine.com.
For any questions or sample requests, please contact Krista Reinhard at krista.reinhard(at)vaskaproducts(dot)com or 415.279.8647.