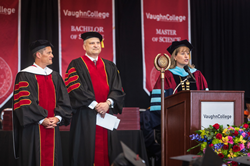 What you do every day going forward matters," advised Clark. "Challenge yourself and challenge the people around you to do amazing things and be proud of what you do in aviation every day.
FLUSHING, N.Y. (PRWEB) May 26, 2023
On Saturday, May 20, Vaughn College of Aeronautics and Technology celebrated the Class of 2023 at its annual commencement ceremony. Edwin J. Clark, Jr. '91, Vaughn alumnus and vice president and general manager of the Boeing 737 program and manufacturing site in Renton, Washington delivered the commencement address and received an honorary degree.
Clark spoke about his career in aviation and his love of the field from a young age. He advised students to find something they are passionate about, and to work hard and take chances to achieve their dreams. "What you do every day going forward matters," advised Clark. "Challenge yourself and challenge the people around you to do amazing things and be proud of what you do in aviation every day."
Clark's aviation experience spans 30 years. Since joining Boeing in 2006 as the chief mechanic for single-aisle replacement studies, Clark has held several leadership positions in commercial airplanes, including: chief engineer director for 737 airplane integration. He led the production and delivery of the 737 MAX and P-8 airplanes with a team of more than 10,000 employees, served as vice president of global technical operations for Boeing Global Services, and served as the interim vice president of the safety and quality function for Global Services. He came to Boeing after 17 years in the airline industry, as the manager of systems engineering at Southwest Airlines and prior to that as project manager at Trans World Airlines for a Boeing 757 acquisition.
Vaughn's student speaker was Alina Santander Vinokurova '23, a mechatronic engineering graduate who reminded her peers of the challenges and resilience the class of 2023 endured during their time at Vaughn in the midst of the COVID-19 pandemic. She expressed gratitude for the College giving her the opportunity to travel nationwide and attend professional conferences and competitions and implored her class to push themselves beyond their perceived limits and explore uncharted territories. "I want to invite you, no matter where life takes you, to carry with you the memories you made here," said Vinokurova. "So go out there, shoot for the stars and make your dreams come true."
Vaughn President Dr. Sharon B. DeVivo closed the ceremony by thanking the graduates for their contributions to the institution and wishing them well in the next chapter of their journey. "You have been challenged, you have been tested and you have prevailed," said DeVivo. "Your degree is a testament to your abilities, and you will make every company and organization you join better."
VAUGHN COLLEGE: Founded in 1932, Vaughn College is a private, nonprofit four-year college that enrolls more than 1,200 students in master's, bachelor's and associate degree programs in engineering, technology, management and aviation on its main campus in New York City and online. The student-faculty ratio of 13 to 1 ensures a highly personalized learning environment. Ninety-two percent of Vaughn College graduates are placed in professional positions, 76 percent in a related field, or choose to continue their education within one year of graduation. Vaughn College serves many first-generation Americans and first-generation college students and is recognized by the US Department of Education as a Hispanic-Serving Institution. In a study conducted by The Equality of Opportunity Project, and reported in The New York Times, Vaughn was ranked number one in upward mobility nationwide. For more information on Vaughn College, please visit http://www.vaughn.edu.