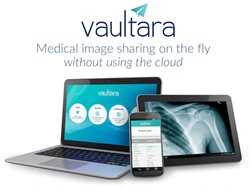 Vaultara has developed something different and important: a vendor-neutral, self-hosted software that enables image sharing without the cloud.
Excelsior, MN (PRWEB) November 12, 2015
Today, Vaultara, creators of a self-hosted, image sharing platform, announced a new version of its software to be unveiled at Radiological Society of North America's Annual Meeting in Chicago at the end of the month.
Vaultara's Flight solution allows imaging facilities to share studies and other medical data with other providers, regardless of what PACS or EMR they're using. This vendor-neutral product is also unique in that it does not rely on the cloud to send data. The software is self-hosted, giving the facility's IT staff complete control of security and access through their existing security systems and firewalls.
Version 2.0.1 introduces the ability to import patient information from CDs, DVDs, or Blu-ray discs, the option to manipulate patient demographic information associated with any received medical data, and additional administrative capabilities. "Whilst we've always permitted an outside facility to send medical data into a customer facility, we realized we had not yet provided a workflow to address the situation when a patient walks in with their data on a disc. This new version permits staff to import that data from any optical media directly to their workstation, through the user-friendly interface we've designed," explained Dave Monk, CTO of Vaultara.
"We've taken feedback from customers and prospective customers alike to make significant improvements to our product's feature set. We're continuously examining all workflows that exist in the field and making life simpler and easier by streamlining those workflows," Monk added.
Vaultara will be attending RSNA 2015 as the featured partner of California-based reseller Data Distributing. The partnership between the two companies dates back to when Vaultara first introduced their product to the image sharing market. Since that time, many healthcare organizations have started exploring alternatives to disc-based image sharing.
"Vaultara has developed something different and important: a vendor-neutral, self-hosted software that enables image sharing without the cloud. Our company offers a full suite of image distribution solutions that focus on value, security, and open, non-proprietary platforms. Our customers trust us to bring them a wide range of options, wrapped in a great customer experience, and we've found Vaultara to be a perfect fit," explained Nancy Fisher, CEO of Data Distributing.
During RSNA, representatives from both companies will be available at booth 6650 in the North Building of the McCormick Place convention center. Attendees that wish to see a demo are encouraged to schedule appointments in advance at vaultara.com/RSNA15.
About Vaultara
Vaultara is an innovative software startup, seeking to transform the way healthcare facilities share medical images with one another and with patients. Founded in 2013 and headquartered in Excelsior, Minnesota, Vaultara's focus is improving patient care by keeping sensitive health data secure and allowing organizations to exchange medical images effortlessly.
About Data Distributing
Founded in 1984, Data Distributing develops innovative, digital and DICOM solutions, along with integration and professional services, to a growing number of facilities, OEMs, and channel partners worldwide. This international company, headquartered in California, creates solutions that are used by hundreds of leading medical centers. For additional information on Data Distributing, call (949) 598-1880, ext. 1218, or visit datadistributing.com.