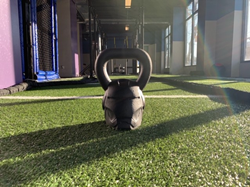 Stronger, Leaner, Fitter!
CHICAGO (PRWEB) May 30, 2019
Look at what we've done, VBody's newest location is almost 1!
VBody Power Fitness, LLC, located at 900 E 47th St, is nearing its first anniversary.
VBody Power Fitness is Hyde Park's newest boutique trainers' gym, offering expert professional personal training services with styles ranging from singles, couples and small group classes. The year has been very busy and many relationships have been formed and continue everyday. VBody is committed to using the very best personal trainers who share our ideals without compromising each trainer's own unique style all while fostering each trainer's growth and potential.
Over this past year, VBody Power Fitness has expanded class offerings and packages tailored to each client's need. We have seen growth in our membership which include clientele from all ethnicities, ages and fitness levels. From the young college bound athlete, to the vibrant 90yr olds, VBody has something for everyone. Our mission: Train Like an Athlete!
VBody Power Fitness has also participated in different events to further our commitment to developing ties to the community. An invitation to join Dr. Flavian Prince and friends of Mzuzi in a dinner entitled: "An Evening of Innovation" Honoring Alderman Emma Mitts & ECC was extended to the owner of VBody Power Fitness. The evening was spent at Arbor; aptly described as cafe by day and restaurant by night. Mzuzi is Chicago's first student run store in Chicago to sell products produced by the students themselves and VBody is in full support of their mission.
VBody was asked to be a part of the Chicago Yacht Club's first ever "Workout on the Patio" event, sponsored by Under Armour, that took place at Belmont Station. The Yacht Club members were treated to an awesome morning workout by owner Randy "Fit fury" V'Estres. All in attendance voiced their enjoyment and we have been invited to participate in future wellness events.
So what else makes us special? We love fostering talent and welcome practitioners to showcase their work in our space. We have featured many yoga instructors, dance instructors, martial arts instructors, boxing instructors and more. Our atmosphere is inviting and our space is one of a kind. Our custom made turf, designed by us, was even featured on the manufacturer's website!
As we continue to cultivate our mission of a family oriented atmosphere bringing health and wellness to the Hyde Park/Bronzeville community, you are cordially invited to stop by the gym for the best in personal attention on your way to achieving your fitness goals. You can also check us out on Facebook and Instagram @vbodypowerfitness.