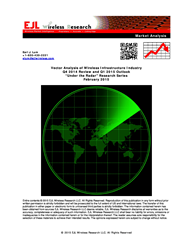 "We have upgraded Ericsson and ZTE while downgrading Nokia Networks," says Lum.
Salem, NH (PRWEB) February 19, 2015
Wireless infrastructure shipments increased 22% in Q4 2014, according to the latest report from EJL Wireless Research titled "Vector Analysis of Wireless Infrastructure Industry, Q4 2014 Review and Q1 2014 Outlook." "Our Vector Analysis Market Briefs provide near term tactical analysis on the state of the wireless infrastructure industry. We are using the mathematical term "vector" to indicate and direction and magnitude for our forecast of the wireless infrastructure industry," says founder and President, Earl Lum. EJL Wireless Research is forecasting that Q1 2015 shipments within the wireless infrastructure industry are expected to increase 6% while Q2 2015 shipments are forecasted to see growth of 10%. We are, for the first time, providing a two quarter outlook with Q3 2015 demand expected to decline by 1%. We believe that continued strong demand from Asia Pacific, especially from China and India, is driving 1H 2015 shipments.
"We are maintaining our rating of Net Positive Outlook for the wireless infrastructure industry however we are downgrading our rating for the wireless BTS OEM segment to a Net Negative Outlook due to currently forecasted shipment weakness in Q2 and Q3 2015. We are also maintaining our rating of Net Positive Outlook for the PTP microwave radio segment through Q2 2015 as this segment continues to show stronger shipment demand as compared with the overall wireless infrastructure market. A complete set of definitions for our rating system is provided within our vector analysis market briefs," says Lum.
"Of the six major BTS OEMs we have analyzed, we are maintaining a rating of Net Positive Outlook to three, a rating of Net Neutral Outlook to one, and a rating of Net Negative Outlook to two. We have upgraded Ericsson and ZTE while downgrading Nokia Networks," says Lum.
EJL Wireless Research will re-examine its ratings of the overall wireless industry, the BTS OEM segment, and the PTP microwave/mmwave radio segment quarterly and will adjust them according to updated industry information.
The market brief report is currently available for purchase and additional information is available on the company's website http://www.ejlwireless.com.
About EJL Wireless Research
EJL Wireless Research provides proprietary, accurate and cutting-edge market analysis and consulting services on the wireless technology ecosystem and defense and aerospace industries. The firm's wireless infrastructure research division focuses on all vertical elements of the wireless ecosystem including mobile subscribers, mobile operators, mobile handsets, mobile infrastructure and mobile content. In addition, the firm provides analysis across horizontal technology suppliers including RF semiconductor materials, RF semiconductor/components, subsystems and OEMs. Similarly, the defense and aerospace division focuses it efforts on the ecosystem supporting UAV and airborne platforms and subsystems. Our goal is to provide our clients with mission critical market analysis and information.
EJL Wireless Research believes it has a corporate responsibility, both local and international, in giving back to the community. Please visit our website for more information about the charitable organizations it supports at: http://www.ejlwireless.com/corporate_responsibility.html.
EJL Wireless Research is managed by Earl Lum. Mr. Lum has 20+ years of experience within the wireless industry including 8 years as an Equity Research Analyst on Wall Street covering the global wireless industry. The company is headquartered in Salem, NH. For more information about EJL Wireless Research, please visit the company's websites at http://www.ejlwireless.com, http://www.ejldefense.com or our weblog at http://ejlwireless.wordpress.com.