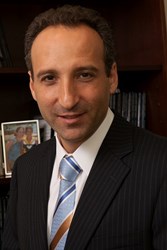 Newburgh, NY (PRWEB) January 02, 2014
Dr. Ran Rubinstein, dual board certified facial plastic surgeon, is pleased to announce the addition of the Canfield VECTRA 3D imaging system to Laser & Cosmetic Surgery Specialists of Newburgh, New York in the Hudson Valley.
Imaging software is a useful tool utilized by the best plastic surgery practices that allows patients to see potential outcomes of their surgery. Patients and surgeons are able to develop a treatment plan with a clear understanding of what each party's expectations for the outcome of the surgery are. Canfield VECTRA 3D Imaging takes this capability to the next level, also providing an opportunity for analysis of pre- and post-op images from multiple angles. Dr. Rubinstein has found the device to be wonderful for a multitude of purposes, including body imaging, breast surgery, laser resurfacing, fat transfer, facial fillers, rhinoplasty, and other cosmetic surgeries. In the future, Dr. Rubinstein is hoping to use the cutting-edge technology during seminars and to offer mini consultations, showing individuals how they could look following one or more aesthetic procedures.
The Canfield VECTRA 3D imaging system opens the door to many possibilities.
The Canfield VECTRA 3D imaging system uses life-like models developed from photographs of the patient's own body. The software program allows adjustments to be made to the face or body image, which the patient and physician can view from any angle. Changes that can be made digitally include increasing volume, altering shapes, and even smoothing skin. While it cannot be assured that the actual outcome of a surgery will match pre-op images perfectly, Canfield offers an accurate and highly detailed high resolution picture that is very close. As an additional benefit, post-operative results are able to be compared and precisely measured.
Dr. Ran Rubinstein is certified by the American Board of Facial Plastic Surgery and the American Board of Otolaryngology-Head and Neck Surgery. He is also a Fellow of the American Academy of Otolaryngic Allergy. His specialties include cosmetic and reconstructive surgery of the face, head, eyes, and neck. He has been selected by several medical companies, such as Allergan and Bioform Medical, to educate and train other plastic surgeons and dermatologist in advanced injection techniques. Additionally, he is an Assistant Professor at Columbia- New York Presbyterian Hospital.
The best in New York plastic surgery can be found at Laser & Cosmetic Surgery Specialists in Newburgh, New York. Dr. Ran Rubinstein and body specialist Dr. Donovan Rosas offer patients the most popular and effective treatments for facial rejuvenation and body and breast contouring. Procedures performed at the practice include facelift, neck lift, rhinoplasty, tummy tuck, breast augmentation, and injectable fillers. As an ENT specialist, Dr. Rubinstein also treats patients with sinus disorders and allergies. Whether interested in surgical options or minimally-invasive treatments, patients will find what they are looking for at Laser & Cosmetic Surgery Specialists. The physicians serve Newburgh residents and frequently see those throughout the Hudson Valley and New York area. More information about the plastic surgeons and procedures they perform can be found on Dr. Rubinstein's website, http://www.yourfacemd.com, or by calling (854) 863-1772.