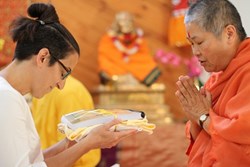 San Fracisco, CA (PRWEB) November 04, 2013
This 10-day advanced course features vedantic meditation, the practice of group scriptural study, personal self-inquiry and the practice of outer and inner silence. For more information please visit: http://www.sivanandayogafarm.org/course.php?course_id=829.
Curriculum
There will be personal coaching and guidance by Swami Sitaramananda in the study of Viveka Chudamani, the "Crest Jewel of Discrimination" by Sankaracharya. Enter into the peaceful silence of the inner Self through the practice of external silence. Come away with deeper self-knowledge and a sense of clarity and peace.
Course schedule
5:30 am - Wake up bell
6:00-7:00 am - Meditation alone at a chosen location
7:00-10:00 am - Swadhyaya, guided study of scripture, in a group with the teacher
10:00-10:45 am - Vegetarian brunch, sitting alone in Mouna (silence)
11:00-12:00 pm - Karma yoga, interactions as needed, still in Mouna
12:00-2:00 pm - Silent reflection, journal writing, study time
2:00-4:00 pm - Dialogue with the teacher, group dialogue
4:00-6:00 pm - Asana/pranayama practice in silence
6:00-7:00 pm - Vegetarian dinner, sitting alone in Mouna
7:00-8:00 pm - Mantra chanting/writing in a group, spoken chanting allowed, but no conversation
8:00-10:00 pm - Meditation in a group or alone, study on assigned reading, summary writing...no sleep allowed before
10:30 pm - Lights out
TESTIMONIALS
Over the 10 days steeped in quietude Swami Sitaramananda guided us about the essence of Yoga and Vedanta through study and self-enquiry. The material is clearly presented with conviction, generosity and wisdom. I feel I have a much deeper grasp of how Yoga and Vedanta work, and how I can apply them to my own life for greater happiness. I am inspired to continue striving toward the realization of the True Self. - Shambu (Paul Weitz) Chicago, IL
Swami Sitaramananda is a Yoga, Meditation, and Vedanta teacher for more than 30 years. She is presently the main teacher of the Yoga Teachers Training Courses offered at the Sivananda Ashram Yoga Farm, Grass Valley, CA where she is serving as the director for more then 17 years. She also teaches at other Sivananda Yoga Vedanta Ashrams & Centers in India, Bahamas, Asia, as well as Centers along the West Coast USA, including her birth country, Vietnam. She is a direct disciple of Swami Vishnu-devananda. She was nominated by her teacher as Goraknath acharya (spiritual teacher, one of the holders of the lineage) in 1989. Her lectures are based on the four classical paths of yoga as well as the 5 points of Health. http://www.sivanandayogafarm.org/swami_sitaramananda