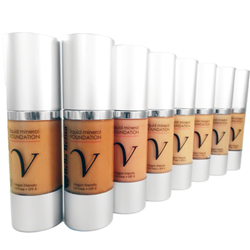 Delray Beach, FL (PRWEB) January 30, 2015
MiBellaReina.com launches this week, Bella Reina Cosmetics, a vegan makeup line with 100% Natural, 90% Vegan, and 90% Mineral makeup products. Renowned for their skin friendly bias, Bella Reina designed the line to be vegan friendly, cruelty-free, and botanically infused. The majority of this product line is made without harsh additives, fillers or chemicals. In addition the products are designated so that the consumer knows exactly what they are purchasing.
In development for over one year and available online at MiBellaReina.com and at Bella Reina Spa, the vegan makeup line was designed to be easy, speedy and good for you. Many of the products were designed to fill 2 uses, so that they are multi-purpose for the "mom-on-the-go" or the professional makeup artist.
"As aestheticians and makeup artists, we wanted to offer a line that was technically superior in performance, yet good for the skin and vegan where possible", said Nancy Reagan, founder of Bella Reina. Reagan further notes, "Our clients trust our advice and recommendations, so our priority was developing products that matched our clients' needs and enhanced their natural beauty."
The new vegan makeup line merges healing natural ingredients with cosmeceuticals as demonstrated in the 8 Hour Eye Shadow Primer. This product contains peptides that have powerful anti-wrinkle activity, proven in clinical trials to reduce wrinkles by 26%, when applied daily for 3 weeks.
Bella Reina Cosmetics offers triple-milled micronized mineral powders, full coverage foundations, healthy lip coverage and sparkling mineral bronzing powders in addition to innovative products like the natural eye makeup remover or the eye primer. For more information on Bella Reina Cosmetics, go to http://www.MiBellaReina.com.
About Bella Reina:
Bella Reina is the leading spa provider and definitive authority on luxury beauty, wellness, and spa treatments. Bella Reina was created by Nancy Reagan, a nationally recognized expert in beauty, nutrition, weight loss, skin care, and makeup. Nancy and Bella Reina Spa have been featured in the New York Times, Beauty High, Daily Makeover, WebMD, and Les Nouvelles Esthetique for beauty, spa industry and business expertise. To learn more about how Bella Reina is constantly innovating both spa services, spa memberships and shopping for beauty, please visit BellaReinaSpa.com or MiBellaReina.com.