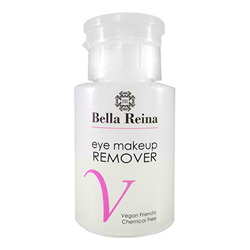 didn't want the makeup remover to leave an oily residue or to have chemcials
Delray Beach, FL (PRWEB) May 29, 2015
Known for their superior quality beauty and health products, Bella Reina has been a trusted name in the world of cosmetics for several years now. One of the company's latest creations is the new Natural Eye Makeup Remover. A chemical-free makeup remover that is carefully formulated with botanical extracts.
"As makeup artists ourselves, we only wanted to produce a line of makeup that performs flawlessly. We didn't want the makeup remover to leave an oily residue or to have chemicals in the formula. At the same time if we could make it like an eye treatment, then we succeeded at formulation.", says Nancy Reagan, the founder of Bella Reina. This is the company's inspiration for introducing the Natural Eye Makeup Remover.
Why Go Vegan?
With the variety of the options available in the marketplace, today, vegan makeup and makeup removers stand out from all others because of their safety. Because it is chemical-free, it is made without the use of parabens, sulfates, synthetic fragrances, synthetic dyes, petrochemicals, and phthalates. Those chemicals may do more harm than good for the skin. With a vegan formulation, the Natural Eye Makeup Remover will not leave any oily residue. This is an excellent alternative to eye makeup removers, most which are produced using harsh chemicals.
Use of Botanical Extracts
The Natural Eye Makeup Remover is made with the use of sustainably, sourced botanical extracts. Each extract has it's own benefit. The extracts found in this product include cucumber, goji fruit, acai berry, chamomile, and green tea. These vegan ingredients provide antioxidants, anti-inflammatories, and anti-aging properties. All of the botanicals combined with glycerin give the eye area the hydration and moisture it needs. These ingredients are very gentle on the skin, making the product effective and safe.
Reagan goes further, "We use this remover every day in the spa before a facial or lash tinting. One of our estheticians just loves the hands-free dispenser." To learn more or purchase this product, you can check out http://www.mibellareina.com/. Bella Reina also has a spa in Delray Beach, Florida, where the Natural Eye Makeup Remover can be tested and can be reached by phone at 561-404-7670.
About Bella Reina
In 2009, Bella Reina was given birth through the idea of Nancy Reagan. During that time, it was a small boutique spa. With their success through the years, business has gone a step further and in 2013, they started offering health and beauty products to the global market. They offer not only the major brands, but also Reagan's own formulation, which include their Natural Eye Makeup Remover.