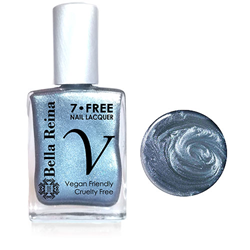 healthier nails without the side effects of traditional polishes
(PRWEB) February 23, 2015
As an online beauty store, Bella Reina has become a trusted name in the market for health and beauty products, including nail polishes. The goal of Bella Reina has been to make it easier to shop for the best products while guaranteeing quality. Given the competition in the marketplace, Bella Reina keeps on innovating as new concepts are introduced. The latest from the company is the Bella Reina Vegan Nail Polish, which is going to change the way nail care products are used. This is perfect for fashion-forward women who would like to explore more choices for nail polishes, while making sure they are cruelty-free and free from non-toxic ingredients.
Why Vegan Nail Polish?
Vegans do not eat animals or use any products made with animals, which also extends to cosmetics. Simply put, vegan nail polish adapts the vegan lifestyle as it does not contain products or by-products with animal origins. In addition, vegan products are not tested on animals. The synthetic materials are less, but quality remains the same, especially in the case of Bella Reina. For example, fish scales, crushed insects, and animal fats are commonly used for the glittery and other effects in nail polishes. The vegan nail polishes from Bella Reina use bronze, aluminum, and mica mineral to create amazing iridescent, opalescent and chrome pearl nail polishes.
Vegan Nail Polish is 7 Free
Bella Reina nail polishes are 7 Free vs. 3 Free, which means it is not formulated with xylene, parabens, dibutyl phthalate, toluene, camphor, formaldehyde resin, or animals. Xylene, which is a powerful compound, can be risky with skin contact, eye contact, inhalation, ingestion, or aspiration. Parabens, on the other hand, have estrogen-mimicking properties and can be dangerous because they are linked to an increased likelihood of having breast cancer. Dibutyl Phthalate or DBP can disrupt endocrine and can lead to birth defects. Toluene, which makes the nail polish smooth, is considered a nervous system toxin. Camphor, on the other hand, is a plasticizer that makes the nail polish flexible after drying, and also poses serious health risks. In addition, formaldehyde is used as a hardener and is also considered as a carcinogen. Lastly, animal ingredients demonstrate cruelty in its production. Given all of these, there is no wonder why a vegan nail polish, such as developed by Bella Reina, is worth being taken into consideration as a viable alternative.
Beyond Being 7 Free
While the vegan nail polish from Bella Reina is known for being 7 Free, this is not the only reason why their products should be given a try. They come in a wide array of colors, providing you with limitless choices. They are dazzling, and they also dry fast. They are made with the use of novel formulation, which makes them superior in terms of quality, application, and drying time. Karla Parrilla, one of the Master Nail Technicians at Bella Reina, said, "From the seven day wear, to the non-drying formula of our vegan polish, our clients have healthier nails, without the side effects of traditional polishes."
For more information on the Bella Reina Vegan Nail Polish or to purchase, click here. To try a vegan manicure, call Bella Reina Spa in Delray Beach, FL at 561.404.7670.