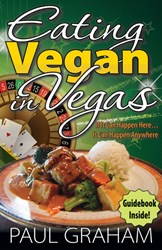 Working with Paul Graham to transform his blog, Eating Vegan in Vegas, into an e-book of the same title, transformed me. Paul and I both want others to have that same experience.
New York, NY (PRWEB) October 24, 2013
In the midst of a great revolution in plant-based diets, in the most unlikely town, Paul Graham is poised to take his 365-Day Blogging and Vegan Adventure in Las Vegas to the next city. Having helped to create via his blog and e-book, Eating Vegan in Vegas, a strong community of people enjoying the benefits of a vegan lifestyle, Graham looks now to share this experience with the next city.
In the virtual pages of Paul's e-book, Eating Vegan in Vegas, readers have found the best vegan restaurants Sin City has to offer as well as detailed descriptions of many of the meals Paul has enjoyed during his blogging adventure. Graham also devotes many pages to the ethical, spiritual, environmental and health reasons for pursuing a life devoted to respecting and preserving the animals, our planet and ourselves.
The next step for Paul Graham is to take his mission of eating vegan dishes, sharing the experience in a blog to another town where locals and visitors alike would benefit from his verbal and pictorial reports. Providing a new vegan guide to a new place is a goal Paul Graham and Sullivan Street Press, his publisher, have joined forces to achieve.
"It isn't often that a publisher has the opportunity to learn from an author in ways that radically change her life," Deborah Emin, Founder of Sullivan Street Press, declared on the company website. Deborah goes on to say, "Working with Paul Graham to transform his blog, Eating Vegan in Vegas, into an e-book of the same title, transformed me. Paul and I both want others to have that same experience."
It was a successful experiment. Las Vegas has a rich vegan culture that Graham has helped to shape and has documented for residents and visitors. Now Graham is ready to move into the next phase of his mission and take this experiment in vegan living to the next city.
Graham and his publisher Sullivan Street Press are now asking Graham's readers to participate in choosing the next city. Readers have the ability to choose from three major metropolitan areas: Southern California/Los Angeles; Phoenix, Arizona; and the San Francisco/Bay Area.
Readers can vote on the Sullivan Street Press Facebook page https://www.facebook.com/sullivanstpress?v=app_362465080506455. In conjunction with the voting for the next city, Sullivan Street Press is offering a one-dollar discount (good until 12/31/13), From-Paul, to help stimulate interest in Paul's new outreach.
Eating Vegan In Vegas: If it can happen here, it can happen anywhere, an e-book, is available exclusively on the Sullivan Street Press website, and features a foreword by the Director of Public Affairs for the Physicians Committee for Responsible Medicine, Elizabeth Kucinich.
About Sullivan Street Press:
Founded 4 years ago, Sullivan Street Press entered the e-publishing domain to change the publishing paradigm. It recognized that for both financial and environmental reasons it was necessary to advocate for the rise of the e-book and the technology that makes all things digital possible. Responding to readers' concerns about the environment, three new e-books on activism, animal rights and Eco-villages will be launched over the next 12 months in a variety of innovative formats. One new novelist has also been added to the new line up of work the press intends to use as a synergistic mix of art and commitment to changing the world. For more information on all the various ways in which Sullivan Street Press is using new technology to expand the potential of e-books, visit the website: http://www.sullivanstpress.com.