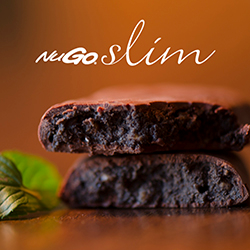 I mostly rely on NuGo Slim bars when I am training and traveling as they are a good source of protein with low sugar and low carbs.
Pittsburgh, PA (PRWEB) September 14, 2016
NuGo Nutrition, a fast-growing lifestyle brand in the natural foods category, introduces two new certified vegan NuGo Slim flavors: Chocolate Mint and Toasted Coconut with 16-18 grams of protein. The OU Kosher Pareve, gluten-free and diabetes-friendly bars contain only 3 grams of sugar, all coming from the real dark chocolate coating with added sweetness from natural chicory root fiber. There is no maltitol or artificial sweeteners in NuGo Slim.
Following the success of the mint and coconut flavors in the NuGo Dark line, NuGo Nutrition received many requests from consumers for more vegan low sugar flavors, specifically mint and coconut. Passionate fans shared that they were ecstatic to finally be able to find a delicious vegan high protein, low sugar bar with clean ingredients, and they wanted more flavors. PETA recommended NuGo Slim Crunchy Peanut Butter as one of the best vegan protein bars for workouts.
Additionally, individuals with diabetes and prediabetes are major NuGo Slim consumers because of the truly delicious taste with a very low glycemic index. GI Labs of Toronto, Canada, the experts on the glycemic index, tested NuGo Slim vegan high-protein bars. They attained a very low glycemic index of 29, validating that NuGo Slim is digested slowly. Low glycemic foods, a marker for foods that minimize blood sugar spikes, are also an ideal choice for consumers concerned with weight management.
Most low sugar or sugar-free bars use artificial sweeteners and maltitol, a sugar alcohol which can cause gastric distress and a bad aftertaste. Maltitol has a glycemic index response similar to table sugar. Instead, NuGo Slim is sweetened with natural chicory root fiber with a 0 glycemic index response. This is why NuGo Slim has the lowest published glycemic index of any high protein, low sugar bar.
NuGo Slim tastes so delicious because it is coated in luscious real dark chocolate, not a fake dark chocolate coating used on other low sugar bars. Other brands use palm kernel oil to make an imitation chocolate coating, resulting in waxy and overly sweet bars.
Sample the new NuGo Slim flavors at Natural Products Expo East in Baltimore at booth 2520 on September 22-24, 2016.
What makes NuGo Slim so special?
*Seven certified gluten-free bars, including four certified vegan flavors- Chocolate Mint, Toasted Coconut, Crunchy Peanut Butter, and Espresso.
*No maltitol or artificial sweeteners.
*180-190 calories, 2-3 grams of sugar, 15-18 grams of protein, 6-7 grams of fiber, and 5-6 grams net carbs.
*Very low glycemic index that can help keep blood sugar steady as part of a healthy diet for diabetes, prediabetes or weight management.
*Coated in luscious real dark chocolate. (Learn more by reading and signing dark chocolate deception petition.)
*Non-GMO ingredients.
In addition to appealing to many lifestyles, NuGo Slim has broad appeal as a workout snack. "I mostly rely on NuGo Slim bars when I am training and traveling as they are a good source of protein with low sugar and low carbs," said Olympic field hockey player Michelle Kasold. Actress Candace Cameron Bure eats vegan NuGo Slim as a pre-workout snack.
NuGo Nutrition pioneered real dark chocolate coated protein bars for many lifestyles, including 14 certified gluten-free and vegan flavors. NuGo bars are sold online and at retail stores throughout North America. NuGo Slim sample packs are available October-May for $7 with free shipping.
About NuGo Nutrition
NuGo Nutrition's mission is to help people make healthier snack choices that fit their lifestyle, without compromising on flavor. Headquartered in Pittsburgh, PA, the company creates snacks without hydrogenated oils, trans fats, waxy vegetable fats, artificial sweeteners, or high fructose corn syrup. NuGo is committed to using top quality, Non-GMO ingredients, like antioxidant-rich real dark chocolate. All products are certified Kosher by the Orthodox Union.
NuGo Nutrition makes bars for many lifestyles, including a variety of gluten-free, vegan, low glycemic, and Pareve options. NuGo Nutrition offers NuGo (family nutrition), NuGo Dark (gluten-free and vegan), NuGo Free (gluten-free, vegan, and no soy), NuGo Slim (low sugar, diabetic-friendly and gluten-free with four vegan flavors), NuGo Organic (certified organic vegan protein bar), NuGo Stronger (high protein, lower sugar, and no soy), NuGo Fiber d'Lish (high fiber and no soy), and recently acquired Promax high protein bars.
NuGo bars can be purchased at stores in the U.S. and internationally, online or by calling toll free 1-888-421-2032. NuGo is also available at many U.S. airports, turnpikes and travel centers, corporate, hospital and college cafeterias as well as at convenience stores and gyms. Follow @NugoNutrition on Twitter, Facebook, Instagram, and Pinterest.