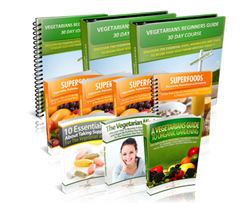 Adopting a vegetarian or vegan lifestyle encourages a new way of life in terms of eating habits, improving health and learning to use products or services that support the environment
London, UK (PRWEB) February 24, 2014
Over the past couple of decades many people have tried to find the perfect solution for instant health, weight loss, the prevention of disease and eternal youth. However, these methods usually do not last as their effects are only temporal, but there is one tried and tested method that society is now embracing more than ever which is vegetarianism.
The vegetarian or vegan lifestyle teaches people the art of self control which is needed to build long term habits needed to lose weight, prevent well known diet related diseases and conditions such as heart disease, gallstones, obesity, cancer, high blood pressure, constipation, high cholesterol , jaundice, kidney stones and diabetes. Adopting a vegetarian or vegan lifestyle encourages a new way of life in terms of eating habits, improving health and learning to use products or services that support the environment.
Nowadays people are making the decision to pursue the vegetarian lifestyle so that they too can reap the benefits that this lifestyle has to offer them. In their quest to start the a new diet they can become overwhelmed or confused in the process trying to figure out this lifestyle on their own because they do not have the information or tools in front of them. Their lack of research and education causes them to fail within the first three to six months. This all could be avoided by choosing to invest in a course that helps to eliminate the guesswork, provides a clear method to get started that is tailored to their personal needs. The course that provides all this and more is the amazing Vegetarian's Beginner's Guide 30 Day Course.
The Vegetarian's Beginner's Guide 30 Day Course is a brand new course created with the vegetarian newbie in mind to help them start and sustain a successful vegetarian lifestyle. This course provides the information, steps and tools for any vegetarian beginner over a period of thirty days. The transition into vegetarianism inspired the creation of the vegetarian lifestyle course Vegetarian's Beginner's Guide 30 Day Course designed by Illuminate Good Health Publishing who are behind the free e-newsletter Vegetarian Newbie.
This one of a kind course offers two types of packages the premium and the classic for any aspiring vegetarian or vegan to choose from.The program consists of Thirty Day Course , Thirty Day Workbook, Journal and six specialized eBooks The Vegetarian Mindset, 10 Essential Facts About Taking Supplements For The Vegetarian and Vegan, A Vegetarian's Guide To Organic Gardening, Superfoods Volume 1, Volume 2 and Volume 3. In addition two bonus recipe eBooks Delicious Delectable Vegetarian and Vegan Recipes and 30 Savoury Meatless Vegetarian and Vegan Recipes which assist new vegetarian or vegans to create amazing meals at home.
This spectacular course is for anyone who has decided to pursue the vegetarian and vegan lifestyle.
For those interested, visit the website to purchase a copy today http://www.vegetariansbeginnersguide.com.
Illuminate Good Health Publishing
483 Green Lanes, Palmers Green
London
N13 4BS
United Kingdom