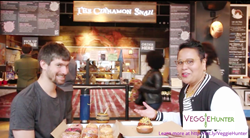 Ten years ago it wasn't easy to have a vegan diet; going out to eat was next to impossible. Now there are vegan/vegetarian restaurants popping up everywhere! And not just on the east and west coasts but middle America too!" - Kamilah Lewis, KOI Media
New York, NY (PRWEB) June 21, 2017
Veggie Hunter, explores the best vegetarian eats nationwide with host, celebrity DJ CherishTheLuv. Reverend, radio host and celebrity DJ CherishTheLuv is host of the newest YouTube webseries, Veggie Hunter. As a cancer and a double mastectomy survivor, DJ CherishTheLuv takes viewers on a journey for healing through food and music on a mission to prove that plant-based meals don't lack in taste or in adventure. From restaurants to food trucks, street "no meats" to bakeries, DJ CherishTheLuv travels the nation interviewing restaurant owners and chefs in the new web series, and sampling delicious vegetarian foods along the way.
Now streaming on YouTube, the first two episodes feature NYC's Cinnamon Snail and the historic Italian restaurant, John's of 12th Street, who recently added a vegan menu to keep up with the changing times. The next stops on Veggie Hunter route will be Blossom Chelsea and Urban Kitchen, in addition to an interview with owner Pamela Elizabeth, dubbed the "vegan queen of NYC".
The show, produced by KOI Media, is not for vegetarians alone, but intended for vegetarians, vegans, meat reducers and foodies alike with the goal of introducing new audiences to healthier food options, without sacrificing the flavor. Veggie Hunter sets out to highlight delicious varieties of vegetarian foods, chefs and eateries that dispel misconceptions that the vegetarian food scene is bland and boring.
The Veggie Hunter recently launched a kickstarter crowd funding campaign to cover additional production costs. To donate to the crowd funding campaign, visit bit.ly/VeggieHunter. The last day to support the kickstarter campaign is July 8th, 2017.
To watch the show and to learn more about the Veggie Hunter web series, visit the Veggie Hunter YouTube channel. Connect with the Veggie Hunter on Facebook and follow the Veggie Hunter on Twitter @theVeggieHunter. Follow the online conversation with the hashtag #VeggieHunter. For images, bios and other Veggie Hunter press assets, visit bit.ly/VeggieHunterDB. For all Veggie Hunter press inquiries, please e-mail Jasu Sims at jasu@presstheory.com.
ABOUT THE HOST, CYNTHIA CHERISH MALARAN AKA DJ CHERISHTHELUV
Cynthia Cherish Malaran, aka, DJ CherishTheLuv, is a reverend, radio host and celebrity DJ and is a cancer survivor. After surviving cancer and a double mastectomy, DJ CherishTheLuv has been on a quest for healing through food and music. As a DJ she has produced music, custom mixes, and DJ'd for numerous concerts, shows, weddings and events, having worked with Ryan Seacrest, CIVIC, Samantha Bee, Amy Schumer, Nile Rodgers, the We Are Family Foundation, Viacom, Comedy Central, TEDtalks, The New School for Social Research, Goddard Foundation, Heritage Radio Network, You Can Thrive!, Vanity4Humanity, Project1Voice, and more. She has brought her goodie bag of music out for corporate celebrations, white parties, ladies nights, birthdays and galas, sharing the booming sound system with legends such as Nile Rodgers, Chic, Sister Sledge, Bono, Elvis Costello, Oprah Winfrey, and Talib Kweli, M-1 of Dead Prez, the Peace Poets and many more. DJ CherishTheLuv is the official DJ of the Nile Rodgers We Are Family Foundation's Three Dot Dash Just Peace Summit. To learn more about DJ CherishTheLuvl, visit djcherishtheluv.com.
ABOUT KOI MEDIA
KOI Media was founded in 2015 by tri-state freelancing phenom, Kamilah Lewis. Through the media and event production company, Lewis has freelanced with Banyan Productions NBC Sports, CBS Sports, ESPN, the famed Showtime at the Apollo, BET, the Miss America competition and Mercedes Benz Fashion Week before landed a staff position at Viacom Media Networks where she discovered her passion for producing. The New Jersey native knows the importance of a healthy lifestyle as she is also the co-founder of Neighborhood Health, a 501 (c)3 non-profit organization that promotes health awareness to underserved communities. Currently, Kamilah is working in television and event production while continuing her health initiative.