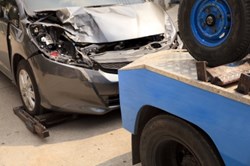 We're providing a new standard in the vehicle accident history reports industry by offering reports for cheap prices
San Francisco, California (PRWEB) September 05, 2013
Buying a new car often requires a check of the vehicle information number. These numbers can provide a comprehensive background report for car owners. The http://www.vinauditllc.com website has now launched online to provide vehicle history report data to car owners or those purchasing any type of motor vehicle in the U.S.
A percentage used vehicles that are sold in the U.S. are purchased by buyers at auctions. One issue that can be present with these purchases is the lack of information about the history of each vehicle.
Vehicles can be salvaged after involvement in collisions, thefts or other misuse of a vehicle. This information is now included in simple downloadable reports online.
"We're providing a new standard in the vehicle accident history reports industry by offering reports for cheap prices," said a source from the VinAuditLLC.com website.
The reports that can be viewed from this website include free and premium reports. The most in-depth information is now provided through the premium reports. The information can include information about the previous owner of a vehicle and a complete accident report.
"Some companies only provide simple information such as vehicle color, state of registration and year of production," the source added. "We're taking information to another level and providing a comprehensive background report," the source continued.
Some companies like CarFax have provided reports for more than a decade to U.S. consumers. The rising costs of vehicle history reports is one reason that some independent dealers are now seeking third party providers of VIN number check reports online.
The launch of the VINAuditLLC.com website is one way that is meeting the demands of auto dealerships and smaller companies that cannot afford price increases for the regular use of some car history report websites online.
About VINAuditLLC.com
The VINAuditLLC.com company provides immediate vehicle history reports for any motor vehicle registered in the United States. This company offers its low cost VIN number lookups to offer an easier way for vehicle owners or those purchasing a vehicle to receive vehicle information. The VINAuditLLC.com website is now an active source to find all background history about motor vehicles in new or used condition. This company is staffed by automotive specialists who work daily to keep records updated for thousands of auto owners daily.