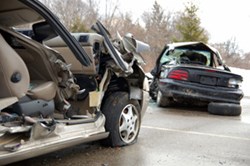 If you have ever been involved in a motor vehicle accident that you suspect may been related to a defect in the motor vehicle, "crashworthiness" is a very important term to remember.
Pennsylvania, New York, New Jersey (PRWEB) August 27, 2013
What is crashworthiness? It refers to a vehicle's ability to prevent injuries to its occupants when the vehicle is involved in a crash. When a car accident occurs, the occupants of a vehicle experience a number of forces that can lead to injury. "Crashworthiness" is a very important term to remember If one has ever been involved in a motor vehicle accident that may have been related to a defect in the motor vehicle, ".
Last year, the Insurance Institute for Highway Safety ("IIHS) and the Highway Loss Data Institute ("HLDI") released information about a new frontal crash test. The dedicated injury lawyers at the Rothenberg Law Firm, LLP want to alert drivers to this recent study and its significance for auto accident lawsuits.
How is crashworthiness measured? The National Highway Traffic Safety Administration (NHTSA) instituted a crash test program in the late 1970s that addressed frontal crash protection. The IIHS began issuing far superior and comprehensive crashworthiness evaluations in 1995.
Measuring Crashworthiness:
When measuring crashworthiness, one usually thinks of a crashworthy motor vehicle as one that distributes dangerous forces to parts of the vehicle that can better withstand them. A car with a reliable crashworthiness design typically offers features that minimize injuries to the vehicle's occupants. In most cases, these features include seat belts, air bags, roof structure, laminated glass, dash board, steering wheel, bumpers, and undercarriage of the vehicle.
In order to determine a vehicle's crashworthiness, in 2012, the IIHS introduced the small overlap frontal test. This new small overlap frontal test is "Designed to replicate what happens when the front corner of a vehicle collides with another vehicle or an object like a tree or a utility pole." In other words, this new crash test provides a greater challenge for certain seat belt, airbag and structural systems.
When it comes to this recently introduced small overlap frontal test, disturbingly, modern vehicles may not provide as much protection as one would like to think. Small overlap frontal crashes mostly affect the outer edges of a vehicle, and these are not well protected by the crush-zone structures. In fact, these studies show that crash forces can "go directly into the front wheel, suspension system and firewall," which can cause significant intrusion into a vehicle's occupant compartment. Simply put, the small overlap frontal test shows that vehicle occupants can sustain serious leg and foot injuries at even relatively low crash speeds.
It is important for consumers to understand "crashworthiness" testing. The results of "crashworthiness" testing can provide an understanding of the potential injuries that vehicle occupants may sustain during accidents while seated in certain vehicles. Therefore, the injury advocates at the Rothenberg Law Firm LLP hope that consumers will pay more attention to their vehicle's safety rating before purchasing, leasing or even riding in certain vehicles.
Individuals injured in a car accident may be eligible for damages based on one's vehicle's crashworthiness. In some cases, the crashworthiness of a vehicle may allow an injured person to file a claim against the vehicle manufacturer for injuries sustained in an accident. When considering crashworthiness, it is important to think about whether a vehicle manufacturer designed that car and its features to be safe under the force of an auto crash. The new small overlap frontal test emphasizes the fact that manufacturers may have a duty to take additional safety measures in the vehicles they produce.
The car accident attorneys at the Rothenberg Law Firm LLP have significant experience dealing with auto crashes and product liability cases. For over forty years, they have been successfully litigating personal injury cases and have recovered hundreds of millions of dollars on behalf of thousands of clients. Statutes of limitations affect the amount of time one has to file a claim, so it is vital to speak to an injury lawyer as soon as possible. The firm has offices across the tri-state area in New York, NY, Philadelphia, PA, Cherry Hill, NJ, Hackensack, NJ, and Lakewood, NJ. An experienced attorney at The Rothenberg Law Firm LLP can be reached at 1-800-624-8888 or by filling out a free online case evaluation form. The initial consultation with the Rothenberg Law Firm LLP is always free, and the firm only collects a fee if it is able to recover damages for you.