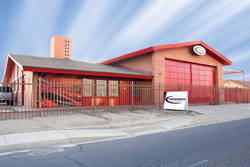 "A big thank you goes out to all our customers for all their support. They have helped us grow as a company and we look forward to continue growing as the number one vehicle wrap shop within the community."
Phoenix, AZ (PRWEB) March 06, 2014
Already one of the most respected companies doing vehicle wraps in Phoenix, 1st impressions Truck Lettering is proud to announce they have recently added to their resume by celebrating their 19th year in business.
What began in 1988 in the back of a Phoenix body shop, 1st impressions Truck Lettering has become a big competitor in the Phoenix vehicle wrap business.
Staying in business for 19 years is no easy feat and takes the hard work of the employees and their goal of striving for excellence in customer service. Of course, they wouldn't have been able to achieve this 19 year milestone without the continued support of their customers. Dan Deary, owner of 1st Impressions commented, "A big thank you goes out to all our customers for all their support. They have helped us grow as a company and we look forward to continue growing as the number one vehicle wrap shop within the community."
1st Impressions Truck Lettering is a car wrap and lettering company whose main goal is to enhance a company's image by creating one of a kind vehicle wraps. Since 1994, they have guaranteed an excellent experience to their customers. Their staff is experienced in vehicle wraps and design, and they also are the only 3M certified installation company in Phoenix AZ. The goal of the staff is to perform a quality job, done in a timely manner, with guaranteed satisfaction to the customer.
2014 has been a year of great success not only for 1st Impressions, but for Dan Deary's other shop, All Pro Fleet Painting, a Phoenix truck painting company. A partnership between these two companies has contributed to their continued success. Trucks that come in for lettering at 1st Impressions may also take a trip to All Pro Fleet Painting for some new fresh paint and on the flip side; newly painted trucks most generally need new truck lettering.
1st Impressions Truck Lettering has taken pride in offering the best in customer service and providing quality vehicle wraps in Phoenix, represented by their 19 successful years of being in business. However, the best is yet to come as Dan Deary plans to continue to excel and distinguish his company as one of the most impressive truck lettering shops in Phoenix.
About 1st Impressions Truck Lettering
Founded in 1994, 1st Impressions Truck Lettering provides car wraps, truck wraps and nearly any vehicle wrap possible including vans, buses, even tractor trailers with a very high focus on detail and quality workmanship.
1st Impressions is the only USAG and 3M Certified Vehicle Wrap company in Phoenix and one of a limited number in the entire state. We are an A+ rate BBB company.
1st Impressions Truck Lettering offers free pickup and delivery service, onsite installation, expedited fleet service, a convenient location and a team of experts dedicated to service needs.
1st Impressions Truck Lettering
345 N 15th Ave, Phoenix, AZ 85007
Phone: (602) 253-3332
Fax: (602) 253-4860
Email: info(at)1stImpressions(dot)com
Hours of Operation
Monday – Friday: 8:00 AM – 5:00 PM
Sat-Sun Closed