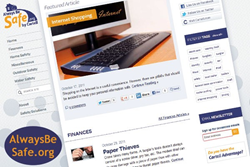 Salunga, PA (PRWEB) July 15, 2014
For many years, the public has supported Cartell by purchasing and upgrading its safety-related, vehicle detection products. In recognition of the trust customers have placed in Cartell, it is our privilege to give back to the industry with a website that captures the reason for our existence: safety.
AlwaysBeSafe.org is a website dedicated to common-sense articles on a myriad of safety issues. It is divided into several categories, including Home Safety, Personal Safety, Finances, Water Safety and Outdoor Safety. Each category is catalogued and tagged so as to make it easy to find articles in specific areas of concern.
Each article is full of common-sense tips that are easy to understand and follow. Many sources have been consulted in the writing of these articles in order to provide a "one-stop-shop" for safety issues.
Some of the articles include Craigslist Safety Tips, published after the St. Louis Craigslist Robbers incident; Safe Shopping on the Internet, which includes four tips to help a person keep off fraudulent websites (there are many of those out there). Other articles cover credit card safety, safe web browsing tips, marina safety, how to responsibly tow a trailer and launch a boat, to name a few.
"Safety is becoming more important to the thinking person," comments Jonathan Bohannon, President/CEO of Preferred Technologies Group, maker of Cartell, "and for that reason, we wanted to offer a resource for intelligent and practical discourse on the subject. AlwaysBeSafe.org is full of information with pithy articles and common-sense suggestions for any age."
Be sure to visit alwaysbesafe.org today!
Cartell, founded in 1975, is a division of Preferred Technologies Group, located in Lancaster County, Pennsylvania. Starting with its groundbreaking use of magnetometer technology for vehicle detection, Cartell has led the industry with innovation, functionality, quality and value. The dependability of Cartell's products far exceeds the industry standard and is backed by a five-year warranty. Every Cartell product is quality-made in the U.S.A. and sold by a national network of fine distributors.
Jonathan Bohannon, President/CEO
j(dot)bohannon(at)cartell(dot)com
(717) 917-4468
http://www.cartell.com