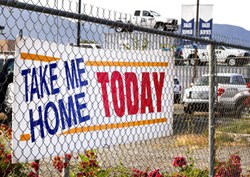 "Scam artists succeed when people are ignorant of how they work," the spokesman said. "But once you know the secrets of how these scams operate, they are easy to avoid so you don't end up becoming a scam victim."
San Diego, CA (PRWEB) October 09, 2013
VehicleHistory.com has developed online resources that will help people identify and avoid scam artists in the used car market, company officials said yesterday.
"People come to us when they are thinking about buying a used car and don't want to become a scam victim," a VehicleHistory.com spokesman said. "We provide them with vehicle history reports, but realized we can do better. That's why we developed these anti-scam resources."
The resources will outline the most common types of scams in the used car industry, the VehicleHistory.com spokesman said. Then, they will explain how to recognize and avoid them.
"Scam artists succeed when people are ignorant of how they work," the spokesman said. "But once you know the secrets of how these scams operate, they are easy to avoid so you don't end up becoming a scam victim."
The scam resources will be made available on a members-only section of the website, the VehicleHistory.com spokesman said. They will also be emailed to current customers, he said.
"We'll even send out some of the more important anti-scam tips on our social media sites," he said. "The entire point is to help as many people as possible and to stop scam artists in their tracks."
VehicleHistory.com assembled the information by talking with experts in law enforcement and the used car industry, he said.
"We want to make sure not a single one of our customers becomes a scam victim," he said.
About VehicleHistory.com:
Customer service website VehicleHistory.com was created to serve the needs of public records clients across North America. With thousands of requests processed each day, VehicleHistory.com continues to grow as a reputable customer service resource. Visit VehicleHistory.com to chat with a live representative, call 1-855-482-6465, or email manager(at)VehicleHistory(dot)com with any questions or concerns.