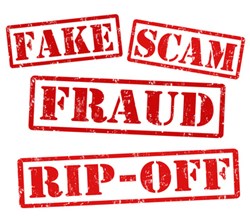 The VehicleHistoryRecord.com guide will not be limited to used car scams.
Los Angeles, CA (PRWEB) January 04, 2014
VehicleHistoryRecord.com is launching a new effort to help their customers avoid becoming scam victims, the company announced yesterday.
"Whenever you go on the Internet, you are at risk of becoming a scam victim," a VehicleHistoryRecord.com spokesman said. "The way the Internet is connected makes everyone vulnerable. But if you are prepared, you can make it much less likely that you will be targeted by a scam artist. We are here to help you avoid that."
The VehicleHistoryRecord.com guide will not be limited to used car scams, he said.
"This will be a comprehensive anti-scam report," he said. "We'll teach people about email scams, phishing scams, fake website scams and even credit card scams. At VehicleHistoryRecord.com, we don't want our customers to become a victim of any type of scam at all."
The guide will be written in plain English that anyone can understand, he said.
"Far too many reports about online scams are written in jargon that only hackers and web masters can understand," he said. "That is not the type of report that VehicleHistoryRecord.com wants to put out. We'd rather help normal people understand how scam operators really work."
The report will be put on the VehicleHistoryRecord.com site at no additional cost, he said.
"This is about helping people," he said. "It's not about making money. We want to make scam operators run and hide. That's the core of our business strategy."
About VehicleHistoryRecord.com:
VehicleHistoryRecord.com was created to serve the needs of public records clients across North America. With thousands of requests processed each day, VehicleHistoryRecord.com continues to grow as a reputable customer service resource. Visit VehicleHistoryRecord.com to chat with a live representative, call 1-877-992-4640, or email manager(at)VehicleHistoryRecord(dot)com with any questions or concerns.