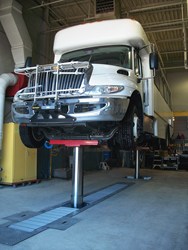 Key technological advancements in hydraulic vehicle lifting systems combine to measurably improve performance, environmental containment and safety.
Stevensville, MD (PRWEB) August 14, 2013
The capital-intensive world of heavy duty bus and truck maintenance facilities in North America has been quietly undergoing a remarkable transformation in recent years, as evidenced by the growing use of "next generation" vehicle lifting technology –notably advanced, eco-friendly in-ground lifts.
According to a recent market analysis by heavy duty lift leader Stertil-Koni, driving the change has been key technological advancements in hydraulic vehicle lifting systems which combine to measurably improve performance, environmental containment and safety. The company's recently introduced DIAMOND LIFT is a case in point. It is a telescopic piston lift with a very modern approach.
Noted Stertil-Koni president, Dr. Jean DellAmore, "From top to bottom, DIAMOND LIFT has been engineered to capture the very best of an old-world lifting approach and then integrate the latest materials and systems to elevate it to new heights. For example, its piston rods are hard-chrome plated for maximum protection against corrosion and wear -- thus optimized to handle the harsh environments of today's busy workshops. Further, from an environmental standpoint, the DIAMOND LIFT, which has a total lifting capacity of up to 96,000 lbs., utilizes biodegradable oil and the upper portion of the steel containment is hot galvanized, which provides corrosion resistance at floor level and ensures proper interlock with the foundation." In addition, the containments are coated internally and externally with DiamondGuard, safeguarding against corrosion and electrolysis while simultaneously prohibiting hazardous shop fluids from entering the environment.
The DIAMOND LIFT also features an industry-changing mechanical locking system and is also one of the few piston-style in-ground lifts designed to allow the lift to be lowered into a mechanically locked situation without placing undesired pressures on the piston seals. The gravity engaged locking assembly is easy to service and can be accessed from floor level. The lift's innovation also extends to other key areas. For example, rather than utilizing traditional rollers, the DIAMOND LIFT's moveable lifting unit and aluminum trench covering system travel on ultra-high molecular weight polyethylene slides atop a stainless steel guide, which are maintenance free.
Industry response has been strong, as it has to another Stertil-Koni-pioneered in-ground lift – the company's U.S. patented ECOLIFT. Featuring a lifting capacity up to 90,000 lbs., it is the industry's original ultra-shallow, full-rise in-ground axle engaging lift. ECOLIFT uniquely combines high pressure, low volume hydraulics and only requires 3.5 gallons of fluid per scissor – and nothing is placed below ground. Added DellAmore, "This lift ensures sizeable cost savings on construction and installation and can be utilized in existing workshop pits and even at locations with high water tables."
To lend even greater credibility to the next generation of in-ground heavy duty lifting systems, Stertil-Koni recommends that maintenance facilities insist that their new lifts undergo rigorous, third-party testing and are certified to ANSI/ALI ALCTV current edition by ETL/Intertek. Concluded DellAmore, "This generation of vehicle lifts is setting new standards for in-ground lifting performance and durability – and helping today's service technicians stay ahead of tomorrow's challenges."
About Stertil-Koni USA, Inc.
Stertil-Koni is the global market leader in heavy duty vehicle lifts – bus lifts and truck lifts – and is the preferred supplier to the world's leading companies in the truck and bus industries. Stertil-Koni's breadth of products meets all ranges of lifting needs and includes mobile column lifts, two-post, four-post, in-ground piston lifts, parallelogram lifts, half-scissors and its innovative axle-engaging, in-ground, scissor lift configuration, ECOLIFT. Stertil-Koni has also recently begun installing the DIAMOND LIFT, a full rise telescopic piston lift designed to set new standards in precision heavy duty lifting. Stertil-Koni is headquartered in Stevensville, Maryland and has production facilities in Europe and the U.S.