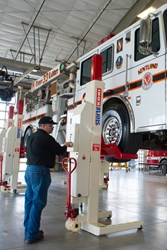 Stertil-Koni is extremely proud of the fact that we have more heavy duty certified products than any other member of the ALI organization.
Stevensville, MD (PRWEB) August 26, 2013
Stertil-Koni, the leader in heavy duty vehicle lifts -- serving municipalities, transit agencies and corporate fleets throughout North America, as well as the U.S. Government -- today announced that it has taken the lead in terms of the total number of ALI/ETL certified heavy-duty lifting products.
Significantly, every Stertil-Koni vehicle lift model currently in production and previously certified under the old standard ANSI/ALI ALCTV-2006 has now been recertified to the new ANSI/ALI ALCTV-2011 standard. Upon reaching this milestone, Stertil-Koni company president, Dr. Jean DellAmore, stated: "Stertil-Koni is extremely proud of the fact that we have more heavy duty certified products than any other member of the ALI organization."
Concurrent with this development, Stertil-Koni is also recognized as the fastest growing heavy-duty lift company in North America and continues to establish new, all-time records in terms of sales performance and market penetration. Continued DellAmore, "Stertil-Koni's unparalleled growth is in part the result of our firm commitment to fulfilling the rigorous requirements of third party certification by a Nationally Recognized Testing Laboratory (NRTL), as exemplified by the ALI testing program."
Certification is a process whereby an independent NRTL determines that a manufacturer has the ability to produce a product that complies with a specific set of standards – in this instance ALCTV-2011, UL201 and CAN 2.22 Part 68. Certification further authorizes the manufacturer to use the NRTL's controlled Gold Label on listed products representing the certified models. Certified products undergo periodic re-evaluation and are required to be produced within the requirements of a documented quality program. In the case of heavy duty vehicle lifts, the program is audited quarterly to ensure continued compliance with the applicable standards.
This is what occurred recently when Stertil-Koni achieved ALI/ETL certification of several new products and recertification of its former products.
The new products include a range of heavy duty in-ground lifting systems as well as the company's new series of heavy-duty 2-post lifts, FREEDOM LIFT, with capacities of 16,000 lbs., 20,000 lbs., 26,000 lbs. and 30,000 lbs. respectively. Stertil-Koni also achieved re-testing which established capacities on the platform lifts (SKYLIFT) 62,400 lbs. and 78,000 lbs. Stertil-Koni enjoys the broadest number of ALI/ETL certified heavy duty mobile column lifts in various capacities, including 16,500 lbs. (per column), 18,000 lbs. and 22,000 lbs.
About Stertil-Koni USA, Inc.
Stertil-Koni is the global market leader in heavy duty vehicle lifts – bus lifts and truck lifts – and is the preferred supplier to the world's leading companies in the truck and bus industries. Stertil-Koni's breadth of products meets all ranges of lifting needs and includes mobile column lifts, two-post, four-post, in-ground piston lifts, platform lifts, half-scissors and its innovative axle-engaging, in-ground, scissor lift configuration, ECOLIFT. The company has manufacturing locations in Europe and the U.S. As such, Stertil-Koni meets the requirements of the Buy America Act at the company's Streator, Illinois location with all of the in-ground DIAMOND LIFT products, ECOLIFT products, SKYLIFT products and all varieties of 18,000 lb. (per column) mobile column lifts.