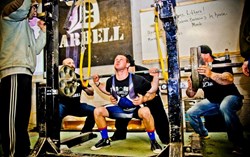 Scoring personal bests in a major competition is dream, but one that I work hard for every single day.
Stevensville, MD (PRWEB) February 04, 2014
The heavy duty lifting experts at Stertil-Koni had a lot to cheer about recently when one of their own, Erik Narvesen, a member of the company's Operations Team in Stevensville, Maryland, set three U.S. national records in heavy duty power lifting.
Competing at the United Powerlifting Association (UPA) Championships held in Detroit in January, Narvesen set national records in the Squat, lifting 410 lbs., the Deadlift, raising 500 lbs. and Total (Squat + Deadlift + Bench) at 1180 lbs.
This was only the second powerlifting competition for Erik, who competes in the Men's Teenage "Raw" (without special lifting gear) 181.75 lbs (82.5 kg) weight division, but the experience was definitely a major lift. "It was a tremendous, surreal feeling," he noted. "Scoring personal bests in a major competition is dream, but one that I work hard for every single day."
And work hard he does. In addition to being an employee at Stertil-Koni and a dedicated powerlifting competitor who trains six days a week, he is also a student at Chesapeake College, studying to become a teacher.
Added Dr. Jean DellAmore, president of Stertil-Koni, "Erik is a true competitor who is able to focus on multiple, heavy tasks every single day. We are extremely proud of his accomplishments and he is an inspiration to us all."
About Stertil-Koni USA, Inc.
Stertil-Koni is the global market leader in heavy duty vehicle lifts for municipalities, transit agencies and fleets, and is the preferred supplier to the world's leading companies in the truck and bus industries. Stertil-Koni's breadth of products meets all ranges of lifting needs and includes mobile column lifts, two-post, four-post, inground piston lifts,platform lifts, half-scissors and its innovative axle-engaging, inground, scissor lift configuration, ECOLIFT. Stertil-Koni has also recently begun installing the DIAMOND LIFT, a full rise telescopic piston lift designed to set new standards in precision heavy duty lifting. Stertil-Koni also recently introduced its new 2-post series, FREEDOM LIFT, with lifting capacities ranging from 16,000 to 30,000 lbs. Stertil-Koni is headquartered in Stevensville, Maryland, has production facilities in Europe and the U.S. and is proud to have the greatest total number of ALI/ETL certified heavy-duty lifting products in the industry.