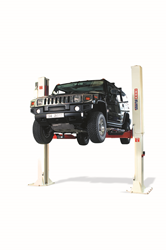 Stertil-Koni will showcase its newly introduced heavy duty 2-post lift series, FREEDOM LIFT, at the NADA Convention & Expo in San Francisco, January 22-25.
Stevensville, MD (PRWEB) January 16, 2015
Stertil-Koni, the leader in heavy duty vehicle lifts -- serving fleets, municipalities, transit agencies and the U.S Military -- today announced that the company will showcase its newly introduced heavy duty 2-post lift series, FREEDOM LIFT, at the NADA Convention & Expo in San Francisco, January 22-25 in booth 5252W at the Moscone Center.
The heavy duty FREEDOM LIFT series, with lifting capacities of 20,000 lbs., 26,000 lbs. and 30,000 lbs. respectively, is proving ideally suited for today's automotive and truck dealer marketplace, particularly as the gross vehicle weight rating (GVWR) for a number of vehicles has risen well beyond the certified lifting threshold for legacy 2-post automotive lifts.
Historically, many of these topped out with lifting capacities in the range of 12,000 lbs. to 15,000 lbs.
Enter vehicles such as the Ford F-650 and Ford F-750 -- with a GVWR of 26,000 lbs. and 30,000 lbs. -- and it is increasingly apparent to dealers and maintenance shops alike that we're well into a new era in terms lifting requirements.
"To address this pressing need," noted Stertil-Koni president, Dr. Jean DellAmore, "we've introduced the FREEDOM LIFT. It's aptly named because it gives dealers, shop owners and mechanics the freedom to lift all types of heavy-duty work trucks and pickups, including the Ford F series, the Dodge Ram 3500, the General Motors Denali line and much more."
Continued DellAmore, "The concept of the FREEDOM LIFT is ingenious yet simple. The telescopic support arms allow the 2-post lift to easily and quickly be adjusted." The modern design permits a very stable 2-post lift without a base and is further distinguished by the absence of any rigid overhead cross-bar. This means that the FREEDOM LIFT can be installed in almost any workshop.
Further, the lift features a sophisticated electronic synchronization that maintains height differences of 9/16 of an inch. What's more, the FREEDOM LIFT never uses any type of chains, slacks or cables and both hydraulic pistons are independently operated.
FREEDOM LIFT is also robotically welded for ultimate lifting precision and manufactured with high-grade carbon steel. The maximum lifting height of 77 ¾ inches is easily achieved and characterized by a smooth synchronization system. For added safety, each member of the FREEDOM LIFT series is third-party tested and validated by ALI/ETL-Intertek.
About Stertil-Koni USA, Inc.
Stertil-Koni, a brand of the Stertil Group, is the global market leader in heavy duty vehicle lifts – bus lifts and truck lifts – and is the preferred supplier to the world's leading companies in the truck and bus industries. Stertil-Koni's breadth of products meets all ranges of lifting needs and includes mobile column lifts, two-post, four-post, in-ground piston lifts, parallelogram lifts, half-scissors and its innovative axle-engaging, in-ground, scissor lift configuration, ECOLIFT. Stertil-Koni is also now installing DIAMOND LIFT across North America, a full rise telescopic piston lift designed to set new standards in precision heavy duty lifting. Stertil-Koni USA is headquartered in Stevensville, Maryland. Stertil-Koni has production facilities in Europe in The Netherlands, and in the USA in Streator, Illinois.